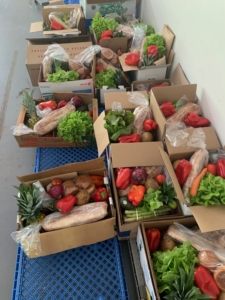 During this period of Covid-19 related school closures, the Common Ground farm team has been putting forth powerful efforts to keep the families of our students nourished through free, weekly farm share deliveries. Click here, to view a story from NBC Connecticut about the food program.
With the help of Haven's Harvest, the United Way and the Community Foundation for Greater New Haven, the organizers of the weekly free food delivery have been successfully providing 200+ families with weekly deliveries of fresh produce, dairy, and other perishables. Shelf stable grains of high nutritional content, like rice, pasta, and cereal, have been more difficult to obtain in bulk. Our families expressed a need for these items and we could use your help.
All money raised in this fundraiser will go towards purchasing food for our families in bulk through local vendors. Even though school has ended for the year, our work to feed our community continues. A small contribution will go a long way. Please help us reach our $11,000 goal today. If you have any questions please reach out to farm@nhep.com.