As the Schoolyards Program Coordinator, Kendra supports professional development and provides opportunities for anyone interested in teaching outdoors, as well as steering outreach and evaluation of the program.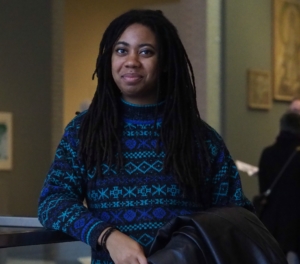 Kendra first joined Common Ground as a AmeriCorps/FoodCorps Service Member in September 2015. As a FoodCorps Service Member, she partnered with teachers in New Haven public schools to build edible learning gardens and teach lessons about food, gardening, and cooking. After her AmeriCorps service term, she worked as a Teacher and Community Service Director at another New Haven nonprofit, Squash Haven, before returning to Common Ground. She is excited to continue working in environmental education and doing neat things with kids outdoors!
Kendra received a B.A. in Ethnicity, Race, and Migration from Yale University in 2014. As an undergrad, she learned about sustainable agriculture as a Yale Farm intern and lead week-long trips to sustainable farms in Connecticut as a Harvest leader. One of her goals is to make agriculture and outdoor education accessible to everyone, regardless of race and class.
In her free time, Kendra likes learning languages and doing stand-up comedy in New England and New York.