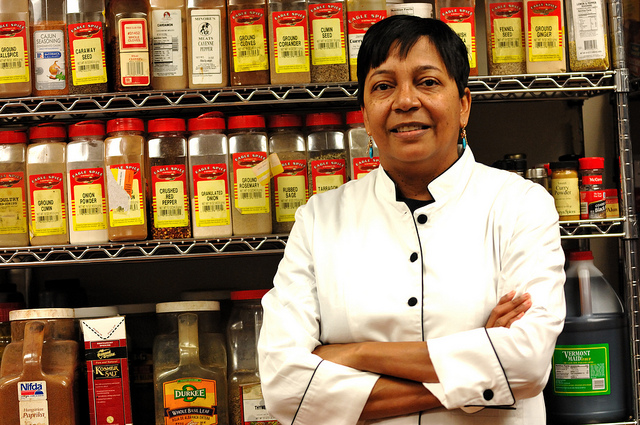 by Kate Bovarnick, Development Assistant
Common Ground Head Chef Rhonda DeLoatch has been getting used to the spotlight. This past year she has been invited to appear on Food Network's Chopped, taken part in Food Network-sponsored classes at the Culinary Institute of America, been a featured guest at the School Nutrition Association conference in Denver, Colorado, and demonstrated how to cook up a healthy meal for thousands of Connecticut residents on CT Today's Living. But her recent trip to Washington DC was a little different. "This was really about thanking us for our work, thanking us for promoting healthy living in schools. It was a lot of fun," said DeLoatch, referring to the eight school chefs, including herself, that took part in the trip.
The Food Network invited the eight women to DC to film scenes for the second installment of Chopped "Class Acts, Too" which will aired on Tuesday, September 25, 2012 at 10 p.m. Many of you may remember DeLoatch's first appearance on the series last November, which helped garner national attention to healthy (and tasty) eating in school cafeterias. All four chefs from the previous show and the four competitors from the most recent episode gathered in DC for sightseeing, getting to know each other, and sharing those ever important recipes. "It was interesting talking to the other chefs," explained DeLoatch. "I enjoyed sharing my experiences from working at Common Ground. I got see how fortunate I am to have fresh ingredients at my fingertips that I'm able to experiment with. Other schools aren't able to provide those kinds opportunities."
The women received a private tour of the White House, highlighting the garden with White House head chef Sam Kass. DeLoatch noted that although the garden was beautiful, it wasn't nearly as bountiful as the CG's very own oasis. The trip culminated in a tour of city, where they stopped at the Lincoln Memorial to answer a few questions for the crew. Standing in front of the colossal statue of the 16th president, the women answered questions about how they changed the idea of food for thousands of students, reminiscing about their experiences in the kitchen. "This trip, this entire experience, aimed to rid the stereotype of the lunch lady with the hair net. We are way more than that now, and I think we were able to spotlight that," reflected DeLoatch.