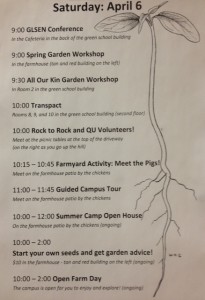 by Rebecca Holcombe, Community Programs Director
Welcome spring! Saturday, April 6 was our first Open Farm Day of the season and several hundred visitors joined us on our campus! High School students met and then departed for field trips to learn about science and careers in the environment. The CGHS parent leadership team talked and planned spring events over coffee. Volunteers from Quinnipiac University and Rock to Rock Day of Service participants turned soil and hauled compost in the garden, getting the field ready for spring planting. A community support group took over three classrooms on the second floor of the school. CGHS student volunteers hosted visitors in the chicken yard and helped children learn how to hold a chicken!
Common Ground was proud to host GLSEN (Gay, Lesbian, Straight Education Network) on April 6 for their Safe Schools Summit – a youth-led day of workshops on preventing bullying and harassment and making Connecticut schools safer for all children. Nearly 100 youth, educators, administrators, and parents attended from all over the state, and our campus provided a welcoming place to gather, take a walk, and engage in real conversations and work around creating safer schools.
Also in the high school building, a group of more than 20 home-based daycare providers joined All Our Kin staff and Common Ground's School Garden Resource Center manager, Jill Keating-Herbst, for an introductory workshop on the benefits of gardening and outdoor play for young children. The daycare providers will apply to be one of 10 home-based daycares that receive a backyard vegetable garden and regular visits from a garden and education consultant as they incorporate garden and outdoor activities and fresh foods into the daily curriculum for the young children that they serve.
By 10:15 AM, a huge crowd of parents and children of all ages had gathered on the farmhouse patio for our first Farmyard Activity of the season – more than 80 people joined us to hear a story and meet and help feed our 8 week old baby piglets! This spring, summer, and fall, Common Ground will offer a Farmyard Activity every Saturday at 10:15 AM. Explore seasonal happenings on the farm – meet a chicken, get up close with a butterfly, brush a goat, plant a seed, or watch some worms!
In the farmhouse, more than 30 gardeners, teachers, children, and families worked with Farmer Shannon to fill seed trays and learned to start their own vegetable, herb, and flower seeds. Each participant took home a tray with the seeds of their choice, planted and labeled and ready to sit in a sunny windowsill until it is time for the new seedlings to be planted out into backyard and school gardens.
Off campus, Common Ground FoodCorps member Kala Cuerington staffed an information table and helped lead a nutrition workshop at the New Haven Public School's Parent University. At Wexler Grant School, a staff member and a team of CGHS students assembled and installed raised garden beds, ready for planting this week with Wexler Grant's after school program!
Wow, what a busy day! It was amazing to see the diversity among people who shared Common Ground's campus on Saturday. Visitors came for many different reasons and had different experiences, but we all shared a beautiful spring day on the farm and enjoyed the busy, positive energy of a campus full of activities that add up to making New Haven a better place to live.
Come see us any Saturday this spring! We are open every Saturday from April through November from 10 AM – 2 PM.