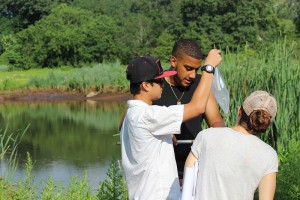 This fall, New Haven's West River is building into a powerful rallying point for community members committed to environmental justice, outdoor recreation, and a vibrant city. Growing out of informal river walks that explore what the West River has to offer — as well as the reasons behind its designation by the EPA as an impaired waterway — a diverse coalition of neighborhood activists, local environmental groups, and public officials has come together to reclaim the river that runs through the heart of our city.
Common Ground students have stepped up to join this coalition — and are earning recognition for their efforts.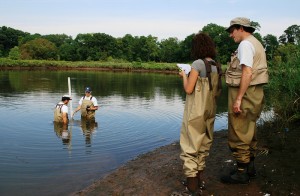 Last school year, four Common Ground students and grads — Ariana, Carlos, Andrew, and Dimitri — joined with science teacher Dave Edgeworth and staff from the Connecticut Fund for the Environment in an important monitoring effort along the West River. Connecticut Fund for the Environment had led an effort to restore tidal flow to the mouth of the river, and Common Ground students took responsibility for gauging the impact of this project on water quality. Read more in the New Haven Register.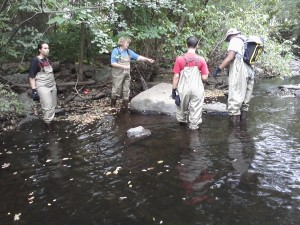 At the end of September, these four young people were celebrated  at Connecticut Fund for the Environment's annual meeting. "Common Ground is producing the next generation of environmental leaders," said Gwen Macdonald of Save the Sound in presenting the award. "The Common Ground students' hard work, attention to detail and enthusiasm has contributed significantly to CFE's successful completion of the West River project. They are receiving this award today to recognize that they have assumed the mantle of environmental activist and that they disprove the accusation that today's youth are complacent and uncaring about the important social issues of the time, in this case the stewardship of the natural environment."
Other students have joined in efforts along the river, as well. This summer, for instance, members of our Green Jobs Corps worked with Audubon Connecticut, the U.S. Fist and Wildlife Service, the Urban Resources Initiative, and the West River Neighborhood Services Corporation to monitor biodiversity in West River Park — and to help plant new shrubs and trees to form a riparian buffer and improve wildlife habitat.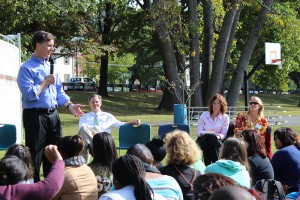 This fall, another crew of West River Stewards is diving in. With support from an EPA Environmental Justice grant, a team of students has begin to examine the entire path of the West River from Woodbridge to the Long Island Sound — identifying, photographing, and mapping every outflow into the river, along with other potential threats to water quality. The team also has plans for developing interpretive signage and educational programs about the river, so that they can share what they are learning and build the momentum of efforts to support comprehensive watershed planning for the West River. Thanks to EPA support and the structure provided by Common Ground's Green Jobs Corps, students earn a real wage for their contributions. Common Ground science teachers Dave Edgeworth and Tricia Johnson are wading in — often literally — alongside this team of students, helping them build their understanding of water quality issues.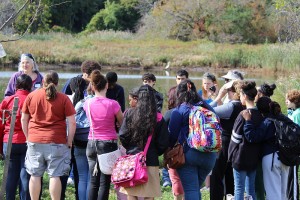 The effort continues to grow. Just this week, students in Common Ground's Environmental Justice course joined in a public event at West River Memorial Park organized by the Department of Energy and Environmental Protection and Audubon Connecticut, aimed to bring attention to city-wide efforts to create wildlife habitat and improve water quality. There, students had the chance to hear from DEEP commissioner Dan Esty — and ask hard questions about the West River and environmental justice issues in the city they call home.  They also met with representatives of the emerging West River neighborhood coalition — exploring new ways that Common Ground students can support the river at the heart of our city. 
To learn more about Common Ground students' work on the West River, contact Joel Tolman at 203.389.4333 x1214 or jtolman@commongroundct.org.