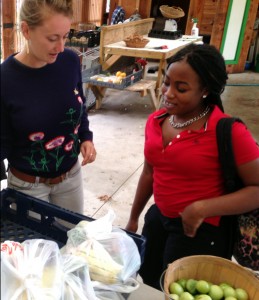 By Shannon Raider-Ginsburg
and Sarah Tracy-Wanck
This Fall marked our third time offering a Common Ground Vegetable Share (CGvS), a program that sends fresh and sustainably-grown produce from our Market Garden home with students to share with their families. Launched just last year with support from the MFUNd, and now with continued support from the Newman's Own Foundation, the program has doubled its number of participants and expanded to five weeks of distribution. But it is the students, themselves, that motivate us to continue to grow the CGvS.
Once again, we've seen that no matter what people may think, kids really do eat vegetables! It is a common occurrence to have students from classes, Green Job Corps, or the Farmtastics Garden club asking to take vegetables home. "Is there anything I can eat down here?" Ken, a student in LEAP Math class asks every time his class does a project in the market garden. Students who are exposed to the garden, the food and the work behind it all are eager to take home the harvest.
Victor, a member of this fall's farm crew with GJC asks every day he works, "Miss is there anything I can take home?" (I'll be sure he gets an application for the spring shares…) And the students' families love the vegetables we produce for the CGvS, too.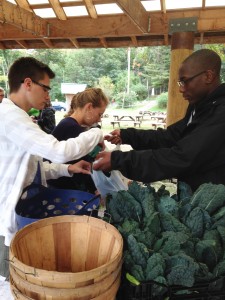 As the school year began, a room full of parents raised their hands when asked who was interested in participating.  Alas, we can't grow as much on our 3/4 acre plot as we'd like, but we are doing our best to provide as many families as we can with a wide range of produce. This fall, the share included over 30 different kinds of vegetables from beets to zucchini! Each week the bag had 8-11 items (even including our farm's eggs) and a few recipes and information about the produce.
The market share is GOOD FOOD!

Produce is grown without chemical fertilizers or pesticides, making it better for the water, the soil, and you.
Nutrient value of veggies is improved by at least 10% when you eat fresh foods. CG produce is delivered the day it is harvested!
We share recipes and tips about how to prepare your produce.
Fresher produce lasts longer in your fridge, which means less waste…

(From Senior Seminar CSA group presentation '13)
While we grow a lot of basic vegetables, some of our local and seasonal produce may not be as familiar, but participants are happy to try some of our less-familiar items, letting us know how they served up eggplant, hakurie turnips and bok choi.
Familiar or not, parents and students appreciate the freshness and high quality of the produce. When asked, what was your favorite part of the share, one family noted, "That I had incredibly fresh delicious veggies and that I knew where they came from and were treated right." Another response said, "Thank you so much for being involved with the food share and your recipes. Idonia's grandparents enjoy seeing and eating the veggies from her school."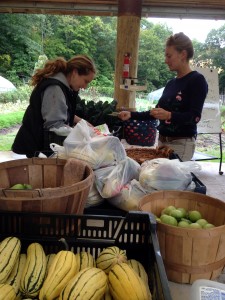 Shares are available every spring and fall for 4-6 weeks depending on how the season and weather plays out. Families must fill out a quick questionnaire, as well as an optional scholarship form, to apply to become garden share members. While the average retail cost of a share is $20, that cost can be reduced by scholarships to as little as $5 per share. In fact, most direct financial support for the CGvS goes directly to subsidizing the cost of the produce for low income families, and over 75% of participating families received some level of scholarship. Families can even choose to pay with their SNAP benefits or farmers' market WIC checks.
Students in the after school program Farmtastics play an important role in getting the veggie share into the hands of students and families.  Every Thursday afternoon, Farmtastics members head to the Harvest Pavilion right after school to help pack, bag, and hand out veggie shares.  Forming an efficient assembly line in the middle of the chaotic pick-up process, these students carefully measure out tomatoes, bag green beans, and hand bags of fresh veggies to students headed to the bus.  While counting and tallying, students also have a bit of fun, picking out the winners for "most beautiful vegetable of the day," debating the various weights of vegetables, and discussing the merits of different types of peppers.  Miguel Caride, Samantha McGinn, Dante Guess, Stephanie Torres, Maritza Rodriguez, and Luis Rodriguez were particularly integral to this process and impacted the CG Veggie Share program with their dedication, humor, and care.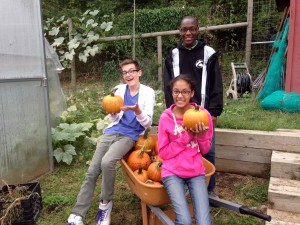 While CGvS shares are specifically for school families, our produce also finds its way to the broader community via CitySeed's mobile market, the Fair Haven Farmers' Market, and our on-site summer farmstand. Many thanks to all who support our farm and the food it grows. For more information, to support the farm, or to apply for a CGvS share, email Farmer Shannon or call her at 203.389.4333 ext 1217.