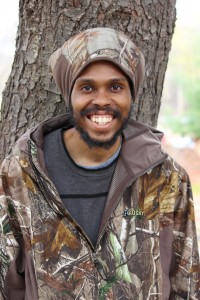 by Kate Cebik, Common Ground
Dishaun starts most of his days here at the farm. Even now, as the air has progressed from merely crisp to certifiably cold, I see him in the fields, as he so often is, hard at work but always available to pause for a friendly wave hello. This morning, the late autumn air renders his "How are you?" as a cloud of mist. He is continuing the harvest, gathering the most frost-tolerant crops into bunches for washing and delivery to our kitchen: haruki turnips, chard, lettuce, and, he tells me, "I'll pull some carrots later today, once the ground thaws out some." In the meantime, he'll be reshaping the beds and mulching after a long growing season. There is farming in his blood, he tells me. "My grandmother, " he says, an uncontrollable grin breaking across his face, "love that woman—she grew up on a farm. As an adult I've learned more about her life there. It was a good life for her, and because I respect her so much, it had an impact on me." Though he worked in office jobs successfully, it never seemed like the right fit. "There was just something in me that needed to be outside and in nature." So he began to volunteer. A lot. He volunteered with the Marsh Botanical Gardens at Yale, and at the Yale Farm. He worked with New Haven Farms at the Phoenix Press Farm Program, learning how to farm in the fields, then used the harvest to better understand nutrition and discover new cooking techniques. And of course, we were fortunate to have him begin volunteering at our farm on Saturdays in the summer of 2013. He also continued to fuel his enthusiasm by watching Ted Talks about climate change and other environmental issues.
"It made me realize that I could be part of a better solution," he says.
Dishaun spent more and more time at Common Ground. "This place is its own world within the world we live in," he said. It is extraordinary to find somewhere so rich in natural beauty and so connected with nature right here in the city. "And the crops grown here are the most diverse I've seen in all my volunteer work," he adds. This past April he became one of our farm interns, a position with a minimum commitment of 6 weeks. Over 6 months later, we are fortunate to still have him here, helping with the farm and so much more.
During this time, he tells me, "I hardly had to set food in a grocery store. There's something amazingly connected about sustaining yourself with the food you grew. I feel healthier, and understand the food more completely." When he was just 14, Dishaun found his first job, educating elementary and middle school kids about healthy eating through 4-H. He continues to educate the future environmentalists among us through his work at camp, and with Kids Unplugged and the West Rock Rangers. And he's fully aware that as much as he teaches them, this is an opportunity for him to learn more as well. "Hiking is great and always opens my eyes to a lot of things. But hiking with kids," Dishaun says, "you just know they are sponges, so you have to be aware. I want to be ready for all their questions, so it makes me research and learn more in order to teach them." He loves being part of this learning. Teaching is "second nature," he says "…with nature first. " Dishaun has a contagious smile and energy that could power a stadium. He lit up telling me about an experience with our after-school program. "I told them we were all going to go over by the compost and turn over some rocks and see if we could find some worms." Cries of "ewww" and "gross" filled the room. "You mean we have to touch the worms?" one kid shrieked. Ten minutes later, this same bunch of kids were outside, muddy and proud, holding worms and grinning. Dishaun tells me,
When you see the kids connect, the future looks bright.