Common Ground's Rock to Rock team needs you! It's not too late to join the biggest, most ethusiastic team on the road on Saturday, April 25th!
Not a cyclist, but still want to join the fun and support Common Ground?  Elmer, Kate, Guthrie, Wendy, and Mr. Dome — and ALL the members of Common Ground's Rock to Rock team — would love your support! Keep reading to learn more about why they're riding, and please consider making a donation to their fundraising pages.
We have less than two weeks to reach our $10,000 goal. We're halfway there — and need your help!
Help Elmer Galvez, CG Senior, Keep Green Jobs Corps Strong!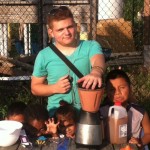 Elmer joined Common Ground's Green Jobs Corps his sophomore year. Through this program, he's helped manage CitySeed farmer's markets, led educational programs for kids at New Haven Farms, plant street trees for the Urban Resources Initiative, cared for our garden and site, and stepped up as a counselor for Common Ground's children environmental programs. When Elmer heard that funding for Green Jobs Corps was at risk — due to changes in the federal program that helps keep it going — he jumped to make sure this experience is available to students who come after him.
"CGHS has changed my life so significantly.  I grew as a person with proper work ethic in mind and many positions under my belt, thus making me a viable contributor to the economy."
Make a donation on Elmer's fundraising page!
Support Kate & Guthrie, riding for Common Ground Children's Programs!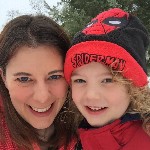 Kate Cebik got to know Common Ground through Guthrie and Eliza — her two kids, who came to Common Ground for summer camps and weekend programs. She loved the place enough that she wanted to spend more time here herself — and this year joined our staff!  This spring, Kate and Guthrie are riding Rock to Rock, so that more families can find Common Ground.
"It is a place where Guthrie learned to identify growing kale and request it, and where he took his first night hike to Judge's Cave. It is a place where Eliza arrives with delight, squealing to see chickens and hear the music. It is a safe haven where kids from all around my amazing community can come, be safe, and learn."
Join Kate & Guthrie in supporting Common Ground!
Join Wendy Battles, Common Ground Board Member!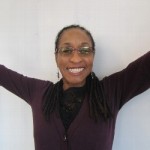 Wendy Battles is an amazing leader on Common Ground's Board of Directors — part nutrition and health coach, part IT superstar, part organizational development expert, 100% enthusiastic champion for Common Ground. Now, she's riding for Common Ground's Rock to Rock team!
"I'm honored to support this awesome organization brimming with hope, enthusiasm and budding enivornmental leaders who see new possibilties for New Haven."
Support Wendy & Common Ground!
Help Mr. Dome, CG Teacher, share his passion for math & bicycles!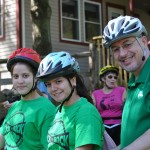 Mr. Dome loves math, and shares that passion with CG's amazing student body. He also loves cycling — so, year in and year out, he helps build an incredible student team for Rock to Rock. This year, Common Ground's team includes more than 50 of our high school students!
"I am in my 8th year being part of this family. The work that is done here is so important."
Support Mr. Dome & Common Ground's students!