On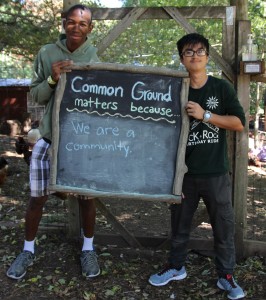 e big thank you in a document jam-packed with hundreds of data points, pictures, and stories showing how we've used the hard-earned money you donated to Common Ground.  All available in an electronic, easy to read format (you can magnify whatever you want to look at) you can flip through on our website.  CLICK ON THE PHOTO OR THIS LINK.
You can choose what you want to read first:
Page 2 – Melissa Spear and Frank Mitchell's note to you introducing our work
Page 3 – Financial Report – from our most recent audited statements (good news, your support meant we didn't spend more than we earned!)
Pages 4,5 – Capital Campaign update and supporter listings – new building expected to open in May, 2016!
Pages 6,7 – Mission impact infographics – Common Ground "by the numbers"
Pages 8,9 – Putting Values into Action – stories of our work told through the lens of our recently adopted organizational values.
Pages 10,11 – More supporter listings (you'll see we have many people to be grateful for)
Page 12 – Board of Directors listing
Have a look at the report, and then, let us know how you would answer the following question:
"What makes you proudest to be part of the Common Ground contributor community?"