This past Summer, members of our farm staff were fortunate to spend time at Soul Fire Farm, a farm in upstate New York dedicated to ending racism and injustice in the food system. Assistant Farm Manager Dishaun Harris attended a week-long Black and Latino Farmer Immersion Program early this summer. Later in the summer, he and educator Shanti Madison took part in a youth food justice visit coordinated by Grow Hartford.
Below we share their important experiences–giving us all a touch of summer during these short, bare-treed days, and reminding us how the impact of food justice extends well beyond the growing season.
By Dishaun Harris
Assistant Farm Manager
My time at Soul Fire Farm turned out to be an awesome experience: a defining moment for this stage of my life. I attended the Black and Latino Farmer Immersion Program, an intensive week long program at the end of June. Upon arriving, the first and most potent thing I noticed was the embracing atmosphere of love and community.
By chance, I arrived a little earlier than scheduled. At that time the farm was packed with people who had come the night before to celebrate their summer solstice party. Not only were Leah, Jonah, Naima, and the other facilitators for the program very inviting and friendly, everyone there from the party also made me feel welcomed into the community they created for themselves.
As far as farming goes, we were given both lecture-style lessons and hands on field work. Concepts included:
irrigation
soil testing
soil preparation
homesteading construction
seeding
transplanting
herb utilization
CSA building
land procurement
season extension
permaculture techniques
culturally-relevant farming history, and
community building through food justice.
Participating in this program opened my eyes to how well Common Ground has taught & trained me on the farm. While I did learn a few new techniques, most of the concepts presented were already familiar to me. What I did find interesting and important to take home with me was the level of connectedness the farm had with so many different organizations both locally and farther away.
Having the chance to return to Soul Fire Farm at the end of summer was certainly a treat. It was awesome being able to go with co-workers and see them enjoy the farm as I had. It was also nice to meet people from the many different agricultural related organizations throughout Connecticut. It's always encouraging to see and meet others who are passionate about creating better communities; especially when those people are making changes in communities that are close to my own.
I am forever grateful to have had the chance to connect with and experience Soul Fire Farm on more than one occasion. I look forward to many return visits, and to utilizing the connections I've established there thus far.
If you're ever in upstate New York, or just want to head somewhere peaceful, removed from the hustle and bustle of city life, I recommend checking out Soul Fire Farm.
By Shanti Madison
Farm Staff & Environmental Educator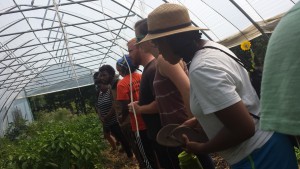 I'd never been to Soul Fire Farm, but had heard of it and its mission. From what I gathered they were a farm that focused on social change and health with a concentration on the education and outreach to people of color.
I was excited when given the opportunity to go on a trip to the farm with a group of other local agricultural organizations in the community. It was awesome to see a new farm while getting to know new people who shared my passion for urban agriculture and education.
Upon arriving I met Leah and her family, who were kind and welcoming from the beginning. It was my first time seeing a family-run farm and it was a beautiful day to visit. We circled up outside for greetings and introductions and from their handmade home you could hear their daughter practicing her harp. It was an excellent visit.
While we took our tour of the land I noticed that segments of the farm were left to weed over with oats. I later found out that the farm was observing a Hebrew tradition known as Shmita, the Sabbath of the Land. I'd read about this method of putting the land to sleep and it was fascinating to see it in person.
While the trip was filled with fun—spinach planting, cooking, seed bomb making and even a live mother-son acrobatics performance—the real mission of the trip rang true with each conversation. As urban leaders in agriculture it was our duty to teach and heal through food, as many say "food is medicine."
In one of our icebreakers we were asked "Who has a family member who suffers from food related illness?" (eg diabetes, ADHD, cancer) All hands went up.With these illnesses being so commonplace I didn't even bat an eye at the response. And that was the problem.
Generational sickness and food insecurity should not be the status quo.
Before our day with the family ended, we were prompted to put on a skit about the history of black-owned farms. In grade school I'd learned that after the Civil War former slaves would receive meager reparations of forty acres and a mule. This decree was repealed before any land could be given.
I'd always known that but to talk about it on the farm gave me a great sense of perspective. What we do at Common Ground and the values we instill in our students isn't just a healthy goal, it's a human right.
My very mission as a farmer has changed since visiting. I farm now for my ancestors; because I have a right to own and care for the land I live on.
---
Soul Fire Farm is currently raising money ("Raise the Roof for Food Justice!") to expand their work. To learn more about what they do, and their plans for the future, visit www.soulfirefarm.com.