by Andre Scott, Class of 2016
This blog post is part of a series — Making Change Every Day — sharing reflections written by Common Ground's class of 2016 as part of their senior leadership portfolios. Learn more about this series and the portfolio process.
In my senior writing class we were prompted to do a research paper on any topic that had relevance to us or our community. I chose education inequity as a social justice project. What I found in my research was that lower income students don't have access to quality education compared to their wealthy counterparts. In the United States all students have a right to education. But not all students receive a quality education. Income has a key connection to the quality of education that a student will receive in our educational system.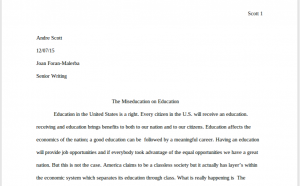 Lack of access to a good education has many causes. Very often in poor communities, schools don't have enough funds to adequately teach the students. Also many schools of choice such as charters and magnets aren't as accessible due to waiting lists and having a capped number of seats. Students who are the first in their family and sometimes their neighborhood to consider going to college don't get the needed support or information about sustaining themselves in college which may lead to dropping out.
This project really required me to stretch myself academically. I had to collect, analyze and organize a lot of data. For this I found seven articles on Iconn.org , and read up to 10 pages of each article to make sure they weren't biased. I then had to write my paper which required several drafts on my  topic, subtopic and thesis. It also taught me a lot about time management because I really struggled with time management during this project.
To me pride means taking ownership and responsibility for the things that you've done. But it also requires taking responsibility for more than yourself. Having pride means taking responsibility for  your community. This research was very upsetting to me and helped me to understand my identity and place within my community. I developed a sense of urgency because I am a part of the lower income community and my peers are also. I want to make a positive impact because I want to make a change for future generations in my  community.
I have lot of ideas about what I can do to address this problem through my senior project. I want to make adaptations to our existing recruitment video explaining the topic of education inequity and how Common Ground makes a difference by motivating kids to go to college and breaks the cycle–we prepare our students for college life instead of moving them along. I want to think about making changes in the video that will reach more kids. As an additional project, I would like to go to Stetson, my local library, and do a seminar about education inequity within my own community.
My main areas of growth through this experience were mental and academic. I grew a lot mentally because during this whole project, I had the interest of my community and future generations in mind–the project was just not about me. it gave me a larger focus.  I also stretched academically  by taking on this major workload. This was never designed to be a single person project. I pushed my thinking to another level by thinking about various possible outcomes. I also feel that I learned that the community I spent my entire life in has also had an affect on my growth because all throughout my life they have supported me in ways I couldn't imagine. The way members of my community raised me meant that it was important to think about them while this work was being done. If my project is successful my community will be educated about education inequities that have affected lower income communities for a long time.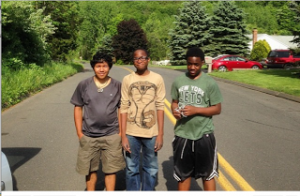 About the Author: "I have been open to new experiences and hard work while I have been at Common Ground and participated in many clubs and activities, such as rock climbing, cycling club, track (indoor season), tree-planting with green job for the Urban Resources Initiative, and CPR classes These activities and jobs opportunities made me a hard worker and helped me to be a leader of myself and my group. I have enjoyed experiencing new things at Common Ground. During my senior year, I started Track and Field for Hillhouse High School, a new experience for me because I have never done sports like track for a big high school. This experience taught me leadership and ownership because I had to be accountable for my own training when my coach wasn't there. Over the last years I have learned that consistent hard work is a lot better than trying to work hard at the last minute."