by Fatou Cisse, Common Ground Class of 2016
This blog post is part of a series — Making Change Every Day — sharing reflections written by Common Ground's class of 2016 as part of their senior leadership portfolios. Learn more about this series and the portfolio process.
My freshmen year I was put in to a class called Ecologia with students from every grade. I spent a lot of time in Ecologia questioning the quality of that class because I was used to ordinary classes and Ecologia wasn't a traditional class. It was a block and co-taught Ecology and Spanish class. I never took an Ecology class before, and I wasn't confident in my Spanish. Before Ecologia class I was a quiet person. In Biology class I do not think that Mr. Edgeworth and I got along. He and I would get into fights sometimes. I had 3 out of my classes 5 with Mr. Edgeworth and they were all in the same room.
I think the environment of the class helped me find wonder in learning. This class had a chill environment. We had food every other day. But that is not all. We did not have the typical "know it all" student. Not having the "know it all" student allowed everyone not to feel ashamed of not knowing and asking questions. Everyone was in the same place. The class had students from every grade. I think that's what helped me with willingness to wonder. I also liked the hands-on experiences we had with Farmer Shannon. Even though I had Mr. Edgeworth, he was more chill this time. We were not yelled at for talking and socializing in class. I think the fact that the class had more trust in their students helped me with wonder.
A junior, Carlos, helped me when I was struggling.If it wasn't for him I don't think I would have gotten to questioning things like I do now. I was very shy in the beginning. I wasn't open to do presentations in front of the class. My very first presentation was horrible and I was too scared to present in front of the class. I just stood in front of the class quiet, then all of a sudden a junior stood up and did my presentation. I was shocked that he was that confident enough to just come up and do my presentation without preparation. I got an 80% on that presentation, but since I didn't really present, I didn't think that I deserved that grade.
I decided to get more involved in the class and a set goal to become a better presenter. I questioned how I could be more confident in front of the class and actually enjoy the rest of that semester. I asked Carlos, how he became such a strong presenter. We tried using note cards, looking at the tops of people's heads and none of those techniques worked. I presented a couple times they were all bad. Then Carlos, the junior I spoke about earlier, gave me the best advice. He said remember that the people watching want to learn what you're presenting on; they're not there to make fun of you. So from then on I tried to remember that. My first good presentation was on my dream room and I still wanted to go sit down, but it felt good to have people tell me that I did well.
By the end of Ecologia, not only did I become a better presenter, but I made great bonds with the students and the two teachers there. I wasn't afraid to get involved in classes and with the students. I had many leadership opportunities in Ecologia that allowed me to see how effective of a leader I could be. What that class taught me the most was that I shouldn't be worried about how others see me. I will always have that curiosity and hunger for information. I will use this experience as a reminder when I feel scared for myself about future presentations. I will always have that wonder in me and I won't let any situation take that away from me.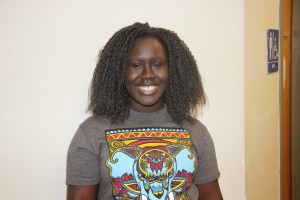 About the Author:  I"'m pretty awesome. I love food, science, and math. I  love learning but I complain about school. I'm snarky, sassy and silly, but I know when to be serious. I'm a very caring and a friendly person. My dream is to become a biomedical engineer. I want to do something scientific that no other engineer has done and put me on the map as being one of the best biomedical engineers. That's about it, I hope you get to know me a little better by reading my reflection."