By Mandy Breuer, Principal at Environmental Charter High School
and Joel Tolman, Director of Impact and Engagement at Common Ground
"That much plastic?" asks Robin, a 12th grader, after sorting through the catch from a 20-minute trawl at the Port of Los Angeles. Environmental Charter High School (ECHS) seniors are spending the day working alongside two community partners, the Los Angeles Maritime Institute and 5 Gyres, to collect water samples in an effort to study local plastic pollution. Their work will ultimately contribute to an upcoming research study and will be used to strengthen a class project centered on the impending plastic ban policy proposal Californians will weigh in on come November.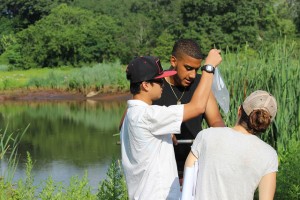 Across the country in New Haven, Connecticut, something similar is happening. On 20 acres of city park land — the campus of Common Ground High School — students are working with community volunteers and partners to create a new educational wetland and restore a ½ acre of wildlife habitat. Under a highway overpass across town, photos of Common Ground students stand 6 feet tall, looking down on a neighborhood park that they helped to restore. These and other students have just partnered with the U.S. Fish & Wildlife Service and Audubon Connecticut to publish research on the impact of their efforts — demonstrating that urban habitat restoration can genuinely impact biodiversity in cities.
Read the full story on the Green Schools National Network website»