by Kathiana Torres, Common Ground Class of 2016
This blog post is part of a series — Making Change Every Day — sharing reflections written by Common Ground's class of 2016 as part of their senior leadership portfolios. Learn more about this series and the portfolio process.
During the summer of 2015, I worked with the Summer Urban Resources Initiative crew to help clean up different Urban Oases around New Haven. We landscaped, worked with watershed surveys, and learned how to install rain barrels. The highlight of working with URI during the summer was working on Cherry Ann Street. There, we connected as a family and community. We had cookouts with them and they helped us landscape and remove invasive species. The neighborhood is located on a dead end containing an abandoned area full of tall grass and garbage. We met Ms.Connie, who wanted to create a safe space for the kids on Cherry Ann St. She went to the mayor's office every Thursday trying to get the project started over the course of eleven years. Finally, their proposal to clean up the abandoned area at the end of Cherry Ann street was accepted and they started with the project. I respect her and her effort to get the community involved, have cookouts for them and get the project started for the kids and families in the community. I felt at home while being there and Ms.Connie felt like the mom of the Cherry Ann Street community.
While working on Cherry Ann, we had to cut some invasive trees down. Malik Joyner and I started taking turns cutting the trees and holding them. We cut about 10 trees, most were really small so we just pulled them out of the ground. By working together cutting the trees we respected and trusted each other. Communicating and finding the skill you are good at is a big part of trying to work productively with others. Motivating each other can mean the difference between getting the job done or being stuck and not being able to complete your task.
At Cherry Ann, there are a variety of people young and old who helped to create a safe space for their community. Many ideas and work were shared around. The community of Cherry Ann, the crew of URI and people around the New Haven area helped to improve the site. While on the third day working at Cherry Ann two kids came up to me to ask if I could walk with them where the path was going to go. The kids insisted that I go, so I asked my boss Angel and she let me go. We walked the path twice and imagined how the site would look like in the future. Once the work was completed a park with swings, slides and monkey bars were installed. There is also a fishing dock and a ¨miniature forest¨ where people can walk through and have their own section of nature.
I respect the community for not giving up on their dream for a safe space for current and future generations. We helped bring in people from all around New Haven to help in this process and with that help we accomplished what we started in June 2015. Working with URI during the summer has helped me grow in many ways from learning to respect my co-workers to learning how to respect nature and my community. Freshmen year I did not have a sense of what respect was really about, but over time working with URI has given me a sense of respect. Respect is something you look at people with, but it is also something that you earn and give to people. The person who I have the biggest respect for and who I consider my role model is Ms. Connie for working so hard to get the project started and for not giving up.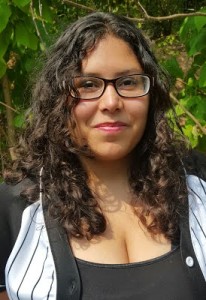 About the Author: "I am a senior at Common Ground High School. I have worked for Green Job Corps for three years and have participated in two of their programs. Being at Common Ground has inspired me and has brought out the adventurous and the scientist in me. I love to work with animals and plants. I like to find out things that are not visible and try to figure out: 'why does it look like that,' 'where did it come from,' 'how was it developed,' 'what made it look like that,' 'and what can I do to change it' or 'what  ways can I help to improve it.' Since I have been here many things have happened that have changed me and helped me to grow. I have also helped other places to grow."  Read a paper that Kathiana and other Common Ground students wrote, sharing research on the impact of their restoration efforts.