By Deborah Greig
Farm Manager
It has felt like a very cold and long Spring on the farm. For me, this time of year is always a bit of a struggle. My mind is picturing a field full of vegetables (weed free of course), but the weather is chilly and rainy and my body is slow to get moving. Thankfully, with the help of our students and some hard working Saturday volunteers, we are slowly starting to mix in compost and turn our growing beds to change the farm from brown earth to green.
As if in a different world, our high tunnels (large unheated greenhouses) are bursting with vegetables! This past Thursday students scooted by the farm on the way to catch their bus and grabbed a bag or fresh produce.
Every Spring and Fall we are able to provide 20+ students with shares of farm grown produce that students and their families might otherwise not have access to. We stuffed their bags with bok choi, turnip greens, lettuce mix, asparagus, eggs, radishes and overwintered carrots.
Now that it's finally warmer, I'm getting ready to put out our giant tomato seedlings that have been slowly growing in out greenhouse since March. One of the best gardening tips I ever learned: after adding compost and turning your soil, make sure to dig a really deep hole for your tomato plants.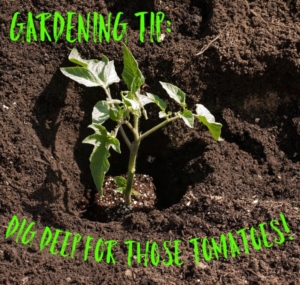 Tomatoes, like cucumbers and sunflowers, are advantageous rooters; if you clip off the bottom leaves and plant your tomato deeply, all the little hairs of the stem will decide to be roots. Your plants will be sturdy and able to access water and nutrients deep in the soil. (If those hairs are above ground, they act as leaves or stems.)
I know you are itching to get your garden going too! Our Annual Plant Sale starts this Friday and continues Saturday during our Seedling Sale & Farm Festival. We have hundreds of tomatoes, peppers, eggplants, kale, peas, beans, herbs, annual flowers and other exciting seedlings to get you started. Our Seedling Sale also supports scholarships for the vegetable shares that our students and their families rely on each season.
Enjoy the tomato weather this week!
See you on the farm soon,
Farmer Deborah