We are thrilled to welcome our summer farm interns, including Madison, a former camper who is coming home to the farm! She is joined by three others new to Common Ground: Haley, Marisa, and Sierra. Special thanks to our generous donors who make the summer internship program possible!
Madison Brown
University of Connecticut class of 2020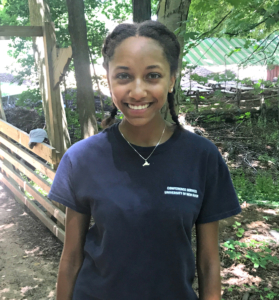 As I approached the end of my freshman year of college, I decided that I wanted my summer of 2017 to be unconventional, ever changing, and rich with hard work and down-to-earth people. After reminiscing the amazing experiences I had during my childhood at Common Ground's Ecology Camp and winter after school programs, I found myself being drawn back to the campus's evergreen forest, life teeming springs and unforgettable gardens and farm animals.
It wasn't long before I began working as a Farm Intern at Common Ground. By my first day of work, I knew I had found exactly what I was looking for.
This fall, I will attend the University of Connecticut as a Natural Resources student, and I will study Environmental Conservation as well as pre-medicine.  As a Farm Intern, I have learned many safe and sustainable methods to care for our environment, such as tilling crop beds, properly processing produce, and making sure the farm animals are safe, healthy, and happy. I believe It is vital to understand how each living thing on Earth is connected, because with this knowledge we can improve health of humans all over the world, all the while sustaining and protecting our planet and its wildlife.
Each student, staff member, volunteer and Farm Intern has a special place here. Everyone works in harmony to make Common Ground's mission to "cultivate habits of healthy living and sustainable environmental practices within a diverse community…". Returning to Common Ground has been a decision and a privilege I know I will smile back on, because each day that I've contributed to making our community healthier, stronger, and more unified has been better than the last. After my first few weeks here I can truly say: it feels good to be home.
Haley Goldblatt
SCSU class of 2018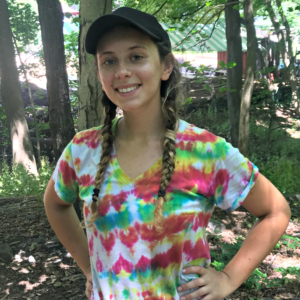 I wanted to work at Common Ground this summer because I'm interested in learning more about sustainability and community engagement.  I'm going into my senior year at SCSU studying nutrition and social sciences & medicine.  Last semester I studied food production and sustainability in Perugia, Italy and I hope to work with clean, fair and safe food practices in the future. With community action, environmental education, CG is an inspiration to me as I decide what I'm going to do in the future.
Marisa Vargas-Morawetz
Yale University
I'm working at Common Ground this summer through the Yale Presidents Public Service Fellowship. I'll spend most of my time working on the farm with the Green Jobs Corps summer youth crew, in addition to working on a project to support the sustainability of the Green Jobs Corps program. I started farming three years ago and quickly fell in love with how it allowed me to unite my interest in food with my love of the outdoors. I am especially interested in the ways that farms can act to support and advance social justice. I look forward to doing a lot of learning and teaching this summer, and having loads of amazing produce to show for it!