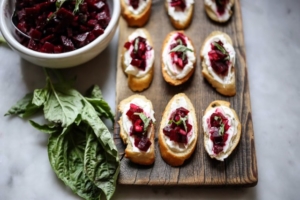 Summer is officially in full swing! With warmer temperatures and lots of sunshine our garden is in full bloom. Our first Common Ground Farmstand of the season is this Friday, July 7, from 2:30-5:00pm. Stop by our harvest Pavilion to pick up  bok choi, fennel, lovely lettuce heads and mix, scallions, radishes, daikon, hakurei turnips, cilantro, beets, baby carrots, cilantro, basil, red russian kale, dill and parsley.
This picnic ready recipe is the perfect way to use those fresh beets and bright basil!
Ingredients:
3 medium sized beets ( tennis ball sized) halved
1 baguette, sliced at a diagonal into ½ inch thick slices
Olive oil for brushing bruschetta
1½ Tablespoon olive oil
1 Tablespoon balsamic
10 basil leaves – cut into ribbons
⅛ C finely diced red onion or shallot
4 oz goat cheese
4 oz cream cheese
¼ teaspoon salt
¼ teaspoon cracked pepper
½ teaspoon sugar
Directions:
Preheat oven to 400F (or fire up the grill)
In a medium put, cover halved beets with water and boil until just tender, about 20-30 minutes.
In the meantime, slice baguette into ½ inch slices at a diagonal. Brush both sides with olive oil and place on a sheet pan in a 400 F oven for 15 minutes, or until crisp. Set aside.
Place cream cheese and goat cheese in a bowl and either warm in a microwave or leave out on the counter until just soft enough to combine easily with a fork. Mix with a fork until smooth. Set aside.
When beets are fork tender, drain pot, refill with cold water and slip skins off the cooked beets under running cold water using your hands. Dice into small ⅓ inch cubes and place in medium bowl.
Add finely chopped onion, salt, pepper, sugar, olive oil and balsamic -stir to combine.
Assemble: Spread a little goat cheese mixture on each bruschetta creating a "trough" ( to hold beet mixture in place) and top with a Tablespoon of beet mixture. Garnish with a few basil ribbons. It's really nice to served when the goat cheese is still a touch warm.
Photo and recipe courtesy of Feasting At Home