Jul 26, 2017 2:57 pm
In Beaver Pond Park, behind the practice fields for the Hillhouse High football team, something beautiful is growing.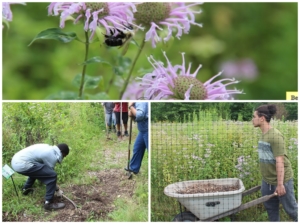 Tucked away in this quiet corner of the park a patch of land blooms with purple bee balm and blackeyed susans. Trails made of wood chips cut between the thickets of flowers. Bumblebees buzz from petal to petal and birds chirp in birdhouses and trees overhead.
This little slice of heaven is the Beaver Pond Park urban oasis, one of about 12 oases that have sprouted up in parks across New Haven over the past few years.
On Tuesday morning, about eight New Haven high school students and recent graduates and a handful of adults tended to the oasis. One of the volunteers, Will Sapp, a student at Common Ground High School, was busy tearing out weeds.
"I love cleaning up my community and making it look better," Sapp said.
Director of Impact and Engagement at Common Ground High School Joel Tolman, who was at the oasis Tuesday, said the purpose of the oases is both to create habitats for wildlife and to provide locals with easily accessible green spaces near their homes.
Beaver Pond Park oasis was created and is maintained largely by adult volunteers Nan Bartow and Bill Bidwell, who were also at the site Tuesday morning, and by other volunteers from neighborhood greenspace groups. But some of the work that keeps the oases beautiful is done by students from Common Ground, the longest-running environmental charter school in the nation. Tolman said the students from his school work for the Green Jobs Corps, a school organization partnered with Yale's Urban Resources Initiative that pays students to do environmental work around the city.
Joaquin Davis, who graduated from Common Ground in the spring, has been working on the oases since 2014, one year after work on the Beaver Hills oasis began. He is one of two co-leaders of the student group that helps with the oasis projects and recently received a personal grant from the New Haven Bird Club to support his environmental work and aspirations. As a student leader, Davis leads projects and helps teach new volunteers how to do the kinds of work that keep the oasis in good shape.
Davis said he did not spend a lot of time in the outdoors before he started working at the oases. He said he loves working out in nature and spending time with the fellow workers, some of whom are his very close friends.
Davis is proud of how far the oasis at Beaver Pond Park has come over his three years of work.
"This place was not always like this," Davis said. "There was mugwort and invasive species everywhere, all the way up to where those cars are over there," he added, gesturing to a parking lot about 50 yards from the oasis.
Davis said the kinds of plants in each oasis are chosen based on what kinds of wildlife they will support. The Beaver Pond Park oasis, for instance, features a lot of bee balm, a flower known for attracting honey bees. The bees pollinate other flowers in the oasis that are eaten by birds.