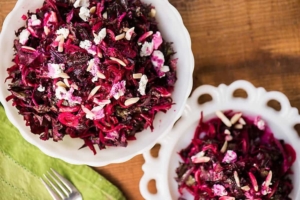 Prep Time:
15 minutes
Total Time: 15 minutes
Author: Krissy Allori
Ingredients
  1 bunch of kale stems removed and leaves sliced thinly
5 small or 2 large red beets, peeled and grated
1 red onion peeled and sliced paper thin
 1/4 teaspoon sea salt
 1/2 teaspoon black pepper
3 ounces just over 1/3 cup apple cider vinegar
1 tablespoon honey
 1 clove garlic minced
1/2 cup extra virgin olive oil
Instructions
1.  Place kale, beets and onion in a large mixing bowl and season with salt and pepper. Mix the vinegar and honey together and pour over the veggies, mixing thoroughly. Set aside. (This can be done up to a couple of hours in advance to marinate the veggies.)
2.  Whisk together the garlic, and olive oil. Toss the oil mixture with the kale, beets and onion. Mix and serve.
3.  It's best the next day as it has the most time to marinate, but it's great either way!