By Joel Tolman, Director of Impact & Engagement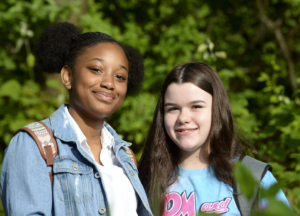 How do you know if Common Ground is right for you or a young person you love? You might already know the answer. If so, you can enter Common Ground High School's lottery now! The lottery application is open from January 15 to February 28, and the lottery happens on Wednesday, March 4 @ 3 pm.
Need to learn more first? You can check out a video. You can come to an open house. If you're a middle school student, you can join us for a school day.  And, to get started, here's what a few of our students have to say about their experiences at Common Ground:
Challenge Yourself.
"How do I put this? When you come to Common Ground, its like you are stepping into a different world. It feels like a small college, but it's a high school. It brings so many things to the table. Common Ground really gave me the support that I needed to move on and get up my grades and even to move on as a better person." – Kyle Lewis, Senior
Did you know … 
Common Ground students grew more in math and reading last year than 90% of their peers across the country? 

All 9th & 10th graders join in a unique interdisciplinary curriculum, which helps students push themselves to new heights and challenges them to tackle real-life environmental & social justice challenges?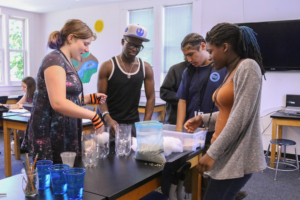 Shape Your Future.
"In my sophomore year I decided to take a Southern Connecticut State University class and Advanced Placement Language and Composition. I did not fully comprehend the level of responsibility and late nights I would spend for each of the classes. These classes took part in molding me into the person I am today. Looking back, I am proud that I took on that challenge." – Darlenne Cazarin Berrios, Junior
Did you know … 
In each of the last five years, between 97 and 100% of Common Ground students were accepted to college? 

This spring, more than 75 of our 225 of our students are taking college courses while still in high school? 

Common Ground students choose between electives ranging from outdoor leadership, to ceramics, to neuroscience, to music, to food & the environment? 
Be Yourself.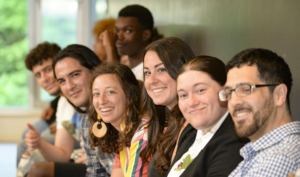 "Being a transfer student, I was scared to open up and be myself in this new environment that I was not familiar with. Even then, staff would emphasize on how supportive and diverse Common Ground is of races, sexual orientations, etc. That allowed me to actually want to stay overtime. I was intensely bullied my freshman year of school, and thought every teenager in high school would act the same way with me, and just shun me. That is not the case here at Common Ground – from staff, students, animals … They all support you no matter what." – Yaniel Ramos, Senior
Did you know …  
Common Ground students come from 17 different school districts? 

They've started clubs and lead efforts to welcome newcomers to the United States and LGBTQ students? 
Raise Your Voice.
"I've always wanted to be a leader. If I'm going to do something – I like to be at the top, organizing. Here at Common Ground, I had the opportunity to work in the Schoolyards program. I work on a crew that goes to other schools and helps them create gardens. This gave me a glimpse of what being an adult is like and it started to teach me that discipline is crucial to an individual's success in work and in life. This summer I had the opportunity to assist with developing a new direction for the Senior Capstone Course at Common Ground. I was also able to give feedback to other educators about their plans for the students at their schools. It was a wonderful feeling to be a part of something that will impact my peers." – Tariq Lopes, Senior
Did you know that Common Ground students …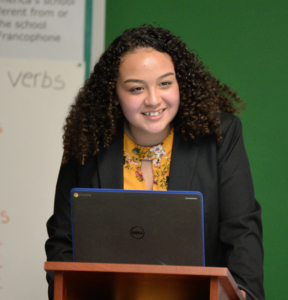 Choose between 2 dozen after school programs, from dance to robotics to biomimicry? 

Take on 100+ paid jobs through our Green Jobs Corps each year? 

Build portfolios that show their growth as leaders over time?
Curious to learn more? Explore how you or a young person you care about can join the Common Ground community.