Liz Cox, Common Ground's school director for the last 10 years, has decided to retire at the end of the school year. This weekend, she shared the message below with Common Ground families, after visiting every one of our students in their guidance groups on Friday: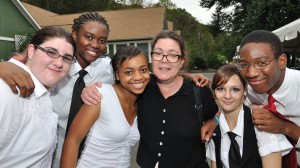 Dear Common Ground Families, 
I am writing to inform you that after much, much reflection and conversation with family and close friends, I will be retiring from my position as Director of Common Ground High School at the end of this school year. 
This is my 21st year at the school, and I can honestly say that every single day serving this community during those years has brought me joy, which I will carry with me always. Educating your children has been a privilege, and I have been honored to do that work with many, many talented people who work very hard on behalf of Common Ground. 
We are gearing up for a full and inclusive hiring process, and I have assured Monica Maccera Filppu, our Executive Director, that I will do everything that I can do to support that hiring process and the next School Director during this period of transition. Please know that Common Ground and its students, families, staff, and community partners will remain forever in my heart. 
With Gratitude,
Liz
We want to celebrate Liz's long time leadership of Common Ground High School! She arrived as a part-time teacher in 1999, became our Dean in 2006, and stepped up as school director in 2009. Throughout her time at Common Ground, she has taught and led based on an unwavering belief that all students could learn and lead, and that all could meet high standards. She has helped the staff at Common Ground grow into stronger teachers and leaders, as well. She has an unstoppable work ethic, a warm heart, and amazing mind for both the big picture and the small details. She helped us transform from a school in need of improvement to a school of distinction and a U.S. Department of Education Green Ribbon School. 
Liz is leaving Common Ground in a strong position. We have an incredible teaching team, and a strong school leadership team. We are completing a major, three-year overhaul of our school curriculum, which has created much more continuity and choice over students' four years of high school. Our families and students are engaged and invested. We were just awarded a 3-year renewal of our charter. Just last week, Liz accepted the K-12 Best of Green Schools Award by the U.S. Green Building Council and the Green Schools National Network on behalf of Common Ground.
We have launched the search for a new school director. Here is a link to the job posting — please help us spread the word! We're committed to creating an inclusive process, and to hearing from you about what we need most in our next school director. You can also reach out to Monica Maccera Filppu, our Executive Director, who's leading the search process, at monica.maccerafilppu@commongroundct.org. 
We'd love your help in celebrating Liz, as well. We'll be honoring Liz in a variety of ways as the end of the school year approaches. If you want to be involved, send Joel Tolman an email at jtolman@commongroundct.org.