by Joel Tolman, Director of Impact & Engagement
Throughout May, I and my colleagues watched our Facebook feeds fill up with photos and stories from Common Ground alumni, celebrating the degrees they earned in this strange spring. In an incredibly difficult and uncertain time, it brought all of us at Common Ground so much joy and pride to watch our alumni persist, overcome adversity, and follow the paths they've chosen. 
I know there are others from whom we haven't yet heard — but wanted to give a shout out to some of our alumni who are surviving and thriving in college and graduate school this spring:
---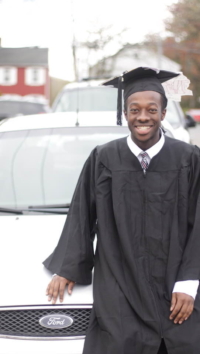 Anthony Duff '16 graduated from Wheaton College with a major in mathematics and a minor in sociology.  When I talked with Anthony last week, he reflected on what it took to survive and thrive at a predominately white institute, especially in a major where he was often the only African American person in his classes: 
"When I arrived, I looked at the student organizations, and programs for minority students. It didn't take me very long to find a home in these groups, and to grow into leadership. Sophomore year, I became co-president of the queer and transgender student of color club. I was also involved in the Black Student Union. At some point, I also realized I don't always need to be in those spaces to be part of the community. By the end of sophomore year, I stopped worrying so much about being accepted for who I was."
---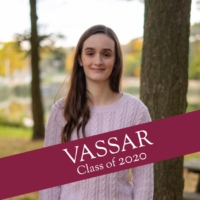 Carrie Beech '16, just earned her degree in cognitive science from Vassar. The Little Free Library that Carrie helped to build as part of her senior project still greets every visitor to Common Ground's campus. Now, Carrie is off to University of Pennsylvania to work on a PhD in Psychology. 
---
Isabella Torres '16, also left her mark at Common Ground: a work of art that she and two of her classmates created, bringing attention to global women's health issues, was the first piece of student art to be hung after the opening of Common Ground's new Springside Building. Now, Isabella has graduated summa cum laude with honors in studio art from Goucher College. You can check out her award-winning work from the Goucher senior art exhition here and here. When I talked with Isabella last week, she expressed a curiosity about almost everything: psychology, Bhuddism, pedagogy. She attributed this curiosity about the world, and her commitment to changing the world for the better, in part to her experience at Common Ground. "The value for social justice … At Common Ground, that was where it was cultivated, entirely. How do you care about communities of people, how do you care about the world, how to care about yourself."
---
Khaled Nached '16 snuck in a degree at Gateway Community College at the end of January, and transferred right over to SCSU, where he's finishing up a bachelors in computer science in spring 2021.
---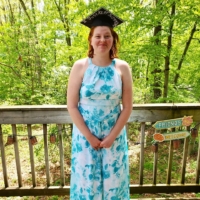 Meghan Brooks '16 was one of many members of the class of 2020 who celebrated college graduation at home — posted pictures of herself and her bunny rabbit in matching graduation caps on Facebook. She won an award for her work as a college radio host, and graduated cum laude from Eastern with a degree in communications.
Some of our alumni were wrapping up graduate programs when COVID-19 shut down their college campuses …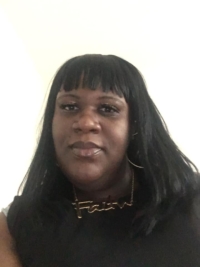 Mary Holloway '07 posted that she just finished up her MBA at Albertus Magnus — while continuing her job as a frontline medical worker.
---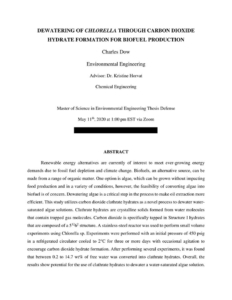 Charlie Dow '14 defended his master's thesis in environmental engineering by Zoom in early May — sharing his research, in partnership with a University of New Haven faculty member, on a new potential new process for producing algal biofuels. At Common Ground, Charlie took chemistry his 9th grade year, founded the robics club, and helped create a fun film on the volume of Common Ground's compost pile, before starting in on college math at Southern during his senior year. Charlie also developed an understanding and appreciation for environmental issues through an internship with The Nature Conservancy in Maine and a research and service trip to work with stateless people in the Dominican Republic in partnership with Amistad America. "When I came to Common Ground, I didn't really know what my interests were, what I wanted to do. But by the time I graduated, I knew where I was headed. From there, college and graduate school could just be about refining my interests into a career that meets a need." 
Many CG alumni are completing degrees while holding down full-time jobs, caring for families, and stepping up as community leaders in other ways … 
Alicia Nixon and Evelyn Gonzales — both members of Common Ground's Class of 2012, and both members of Ms. Frasier's advisory group — also earned degrees this spring. Alycia graduated with an associates from Gateway, and has just launched her own photography start-up. Evelyn earned her Licensed Practical Nurse degree. This did not surprise me at all: Evelyn and Alicia have always kept their eyes on the prize, and the Class of 2012 has always been a crew that aims high and sticks with it, whatever obstacles get in their way. 
---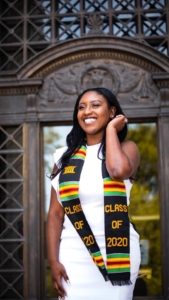 Chanel Johnson '11 earned her bachelors this spring, and is heading straight on to Northeastern for an accounting degree.
---
Earning a college or graduate school degree is always hard. Earning it as a first generation college student, or a young person of color, or a young person from a low income family — as many Common Ground graduates are — puts so many additional barriers in your path. Many of these graduates chose to take on majors and degrees that are notoriously difficult. And, as if that were not enough, these students spent their last semester learning from home rather than in college classrooms, worried about their own and their families' safety. Just like our current seniors, these members of the Class of 2020 demonstrated a combination of reflectiveness, tenacy, self-advocacy, critical thinking that is nothing short of extraordinary. 
An enormous shout out to all the alumni who are surviving & thriving in this wild and challenging world. I and CG are proud of you whatever path you are on, and always love to hear your news.