Key Links
Buzz (Our Course Management System) 
Common Ground's lottery, and the New Haven Magnet School Lottery, have now closed for applicants for the 2021-22 school year. We have offered seats to incoming students, and have begun the process of registering and welcoming these new students.
Have questions about the lottery, or want to join the waiting list? Visit our Become a Student page, or contact Sharyn Lopez, Manager – Student Engagement & Out of School Programs, at 203.389.4333 x1206 or by email.
Need help getting your accepted student registered? Reach out to our main office at 203.389.4333, or contact Bev Greene, Director of Operations, at Bev.Greene@nhep.com.
You can also use the links below to learn more about our school …
Click here for more Covid related info and other Student Health related documents and information.
In each of the last 5 years, between 97% and 100% of our graduates were accepted to college. Our 4-year graduation rates significantly exceeded the state average in 4 of the 5 last school years. Recent Common Ground 9th and 10th graders have made greater gains in reading, writing, and math than 90 or more percent of their peers across the country, according to results of the NWEA MAP. Common Ground was the state's first U.S. Department of Education Green Ribbon School and a recipient of many awards and grants in recognition of our work.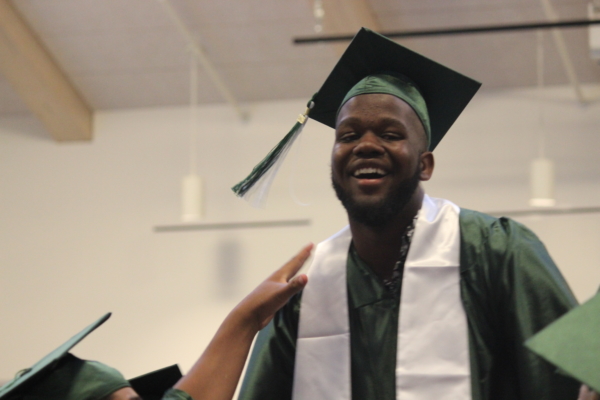 Common Ground's curriculum combines rigorous high academic standards for all, responsive relationships with adults and peers who really care, relevant, real-world learning that's rooted in the community and environment, and real roles and rights for students. Imagine studying …
Math while you … decide what should be planted on Common Ground's farm to maximize production, nutrition, taste, and cultural relevance.
Science while you … turn what you are learning about climate change into beautiful paintings, spoken word, and graffiti art
English while you … work with professional actors to write and perform plays about social justice issues that matter to you.
Recent Blog Posts about the High School
joeltolman
by Joel Tolman, Lead Teacher - Student Pathways This fall has been the hardest in my 17 years at Common Ground High School. So many of the things that make Common Ground what it is
Kimball Cartwright
Vacancy Announcement Core 10 Interdisciplinary Methods Lab Instructor SY 2020-2021 Location: New Haven, CT About Common Ground High School  Common Ground High School is the nation's longest-running environmental charter high school, founded in 1997.
Kimball Cartwright
Vacancy Announcement High School English Teacher (Grade 10) Long Term Substitute SY 2020-2021 Location: New Haven, CT About Common Ground High School  Common Ground High School is the nation's longest-running environmental charter high school,