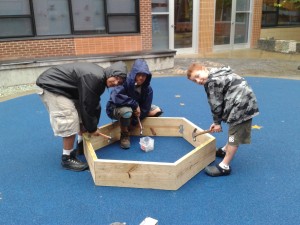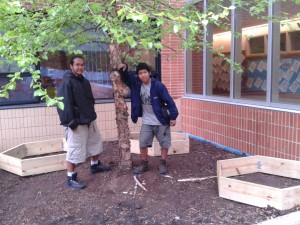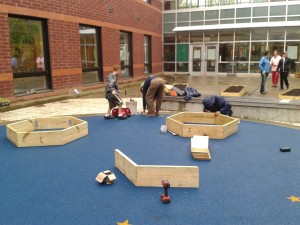 by Jesus Reyes, School Garden Resource Center Crew
This past Saturday, at the Columbus School in Fair Haven, Marcel, TW, and I completed one of the more complicated (and confusing!) garden projects that we have taken on to date.  We put 6 hexagonal garden beds together without the slightest hitch!  With the help of teachers at Columbus School, we filled these beds with premium compost soil that we made at "home" (Common Ground) from our food and garden scraps.
All his work was possible because we had taken the time to pre-cut all the lumber a week prior to the garden build.  This then leads me to reiterate that these are the most challenging beds we've built — primarily, but not solely, because the boards have to be cut at an exact angle (30 degrees!) and exact length in order to fit perfectly together.
On Wednesday, May 8th, the School Garden Resource Center Crew that consists of TW, Marcel, Brittany, Anthony, and myself (Jesus) went to Hooker Upper School, which is in league with Audubon Connecticut, to reinvent a space to provide a diverse habitat for birds, pollinating insects, and small wildlife.  With the help of members of the Hooker School community, we renovated the space by planting a variety of flowers, shrubs, and even butterfly bushes!