Though our school gardens are all still buried under drifts of snow, the School Garden Resource Center has been hard at work this winter and has exciting news.
New Partner Schools Announced!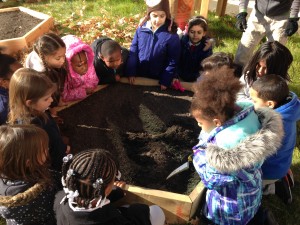 The School Garden Resource Center has selected three new partner schools!
Congrats to Davis Street, King-Robinson and New Horizons. Looking forward to breaking ground once it thaws this spring!
What does bringing a garden to a school do? So much! But here's just a taste. A few unique teachable moments that came out of existing school gardens:
Columbus School integrated their garden into its summer program, sending food home with the families of participating students.
Conte West Hills 7th grade science students started seedlings in their classroom, invited pre-schoolers to take a field trip to their classroom, and led garden-based educational activities for these younger students .
At John C. Daniels, every grade level has been involved in planting and caring for the garden, which yielded the raw ingredients for family pizza and salsa parties.
Worthington Hooker's garden provided their entire school salad for a week, as well as seeding a variety of learning opportunities: 2nd graders will use cucumbers from the garden as part of a food preservation unit, 5th graders created a colonial herb garden, and 7th graders are planted a dye garden.
We are excited to see the diversity and depth of ways that our new schools will use their budding gardens to teach!
School Garden Resource Center Workshop Series of 2015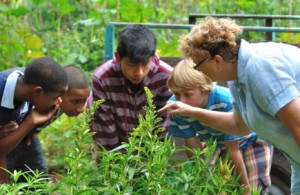 Caught the School Garden bug? We are excited to present a workshop series designed for educators, parents, and community members interested in learning about school community gardens.
Click the workshop title below to learn more or register.
Saturday March 14, 2015: Planning Your School Garden
Saturday March 28, 2015: School Gardens: Soil, Worms, and Compost
Saturday, April 11, 2015: Seed Starting
Monday, May 11, 2015: Growing up WILD: Garden and Nature activities for Early Childhood Educators
Farm to School Conference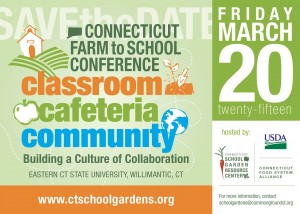 Calling all school garden enthusiasts, educators, farmers, policy makers, public health advocates, food service professionals, parents, and more! The Connecticut Food Systems Alliance and the Connecticut School Garden Resource Center have been awarded a USDA Farm-to-School grant to present a statewide conference. The conference will be on March 20 at Eastern CT. State University. Topics will include:
Best practices for the school garden
Local foods procurement and promotion
Experiential food education
Food, farm, and nutrition curriculum
Growing for the institutional market
Funding opportunities, and more!
Ready to register? Click here! To learn more or ask questions, go to the CT Farm to School Conference web page here.