PLEASE NOTE: Due to rain, the Maple Syrup Festival & Pancake Brunch as well as the Summer Camp and Children's Programs Open House have been moved to SUNDAY!
The School Garden Workshop will remain on Saturday.
Original Article: This Saturday Common Ground will be hoppin' with something for everyone. Join us for some or all of these three exciting events!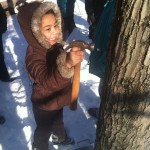 Come visit Common Ground for a last celebration of winter! This is a great chance to see tapped trees, see our sugar shack, and learn about maple syruping. Can you taste the difference between real and fake maple syrup? Sample raw sap, warm up by a campfire, and even try a sap dog! (Don't know what a sap dog is? Come find out!) Enjoy a pancake brunch between 10-12:30. $8, children 3 and under are free.
---
Swing by the farmhouse to learn all about the fun opportunities for kids at Common Ground this Spring and Summer. Meet Rebecca Holcombe, the camp director; ask questions; enjoy the campus! We can also accept payments and process financial aid applications during the open house.
Spring brings the return of our popular after-school programs Kids Unplugged and West Rock Rangers.
Children in grades K-4 & 5-8 can get unplugged and outside, exploring nature, hiking, imagining, growing food, making friends, and having fun! The next session runs March 31-June 4 on Tuesdays, Wednesdays, and Thursdays each week. Join us for 1, 2, or all 3 days every week! Free bus transportation is available from any New Haven Public School with a dismissal time between 2:50 – 3:30 PM. Not coming from one of these schools? No problem! Caregivers are invited to drop off between 3:15-4:00.
Adventure and exploration fill the summer at Common Ground! We have several camps for kids ages 4-13+.
Multi-week camp:
Ecology Camp is a great choice if you need at least three consecutive weeks of camp. The children and staff in each group are the same for the full three weeks, so children really get a chance to make friends and staff can get to know their campers and design activities that are inspired by the interests of the group. A multi-week discount is included in the price of Ecology Camp! Ecology Campers have the opportunity to learn the trails, find their favorite chicken, build elaborate forts in the woods, watch seeds that they plant grow into food to eat, and develop real relationships with the site, the staff, and each other.
• Session 1: July 6 – July 24, 2015
• Session 2: July 27 – August 14, 2015
Time: 8:30 – 3:00 (extended day available from 7:30 – 8:30 AM and/or 3:00 – 5:30 PM)
Single week camp:
All our other camps are available as single weeks—build your summer around your interests and family plans. Come for one week, two weeks…every week!
• Session 1: July 6 – July 10, 2015
• Session 2: July 13 – July 17, 2015
• Session 3: July 20 – July 24, 2015
• Session 4: July 27 – July 31, 2015
• Session 5: August 3 – August 7, 2015
• Session 6: August 10 – August 14, 2015
Time: 8:30 – 3:00 (extended day available from 7:30 – 8:30 AM and/or 3:00 – 5:30 PM)
Favorite activities usually include lots of music and stories, water games, creative play in the mud kitchen, fort building, and cooking with food from the garden. Specific activities follow the cycles of farm and forest, and each week is a unique adventure, so Sprouts campers may be signed up for any number and combination of sessions.
[infobox]Choosing Sprouts vs Eco-Explorers Camp for 5 year olds: Sprouts Camp (above)has a lower child to staff ratio than Eco-Explorers Camp (below). Sprouts is 4:1, Eco-Explorers is 5:1). Sprouts Camp is based out of our farmhouse, meaning that Sprouts Campers do not share bathrooms or hallways with older campers. Sprouts Camp offers a combination of active, energetic activities and quieter periods to the day (especially after lunch when some children might be used to having an afternoon nap). It might be the best choice for 4 and 5 year olds who have never attended a summer camp before or who are shy about warming up to new situations.[/infobox]
Creative play and active exploration are the starting point for each week of Eco-Explorers Camp. Fort building, nature arts, wading in the stream, and caring for farm animals are typical weekly activities. Special themed days will follow seasonal events of the farm and forest and can include making snacks from the garden, hiking in West Rock and climbing through Judge's Cave, seeking and learning about bugs, following wildlife signs in the woods, or a day full of chicken themed activities!
Perfect for animal lovers, young naturalists, and aspiring zoologists and wildlife biologists who want to learn to care for and conserve animals of all sorts! Learn about domestic and wild animals as we use the farm and forest to get up close and personal with the animals we share the earth with.
Campers will harvest from the farm, chop, measure, mix, and prepare food, follow recipes, and try new foods over the course of their week. Campers rotate through cooking activities in small groups, so no camper spends all day cooking – we have lots of different activities to enjoy! Cooking campers will also visit the farm animals, play games, make new friends, go on hikes and adventures in the forest, build forts, and enjoy music and art projects. Cooking Camp is for boys and girls, and our Cooking Camp staff reflect the diversity of our campers – good food is for everyone!
In each adventure-filled week, Rangers campers will make new friends and favorite memories as they hike and explore West Rock, conquer the Big Rock Challenge, learn to build and cook over a campfire, use clues to hunt for hidden treasure, visit the farm animals, help with animal and garden care, play games, get wet in Wintergreen Brook, eat a picnic lunch in the woods, create a giant fort, and harvest and cook with food from the farm!
Counselors are enthusiastic, energetic young people who learn about responsibility and working on a team as they partner with camp counselors and camp teachers to lead activities, play games, and participate in all aspects of camp. Most JC's are 13 and 14 years old, but we are happy to have older applicants who love children and nature. Junior Counselors must have attended Common Ground for a minimum of one summer or one academic year of after school programs before joining us a Junior Counselor.
---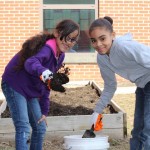 Our School Garden Resource Center continues to grow as it kicks off its workshop series! This introductory workshop is for teachers, administrators, parents and other community members who want to launch a school garden program in their school. We will go over the basics of assembling your garden committee, building a budget and seeking funding, planning the design of your garden, sourcing materials, constructing raised beds as well as creating systems to sustain your garden over time. $15