By Jesse Delia, Community Programs and Outreach Manager
The truth is, if we had it our way, we'd make it so that everyone and anyone who wanted to come for a visit to Common Ground could come anytime they want! Though we might not be able to host the whole city of New Haven in one fell swoop, we are working on making it easier for large groups to come for a visit together.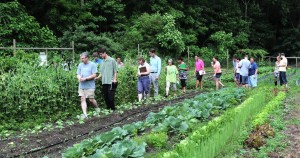 You might already know about Open Farm Days that run 10AM – 2PM from the first weekend in April through the Saturday after Thanksgiving. Open Farm Days are free and open to the public- you can come on your own, with a friend, or the whole family for a visit to meet the chickens, eat cherry tomatoes from the garden, or take a stroll into the woods.
What you might not know yet is that we'd love to host your community for a free visit on Saturdays. There's a couple ways you can come work and play with us on the farm!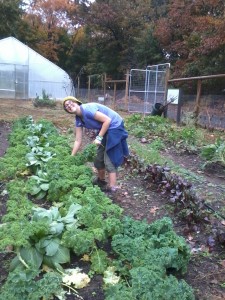 First, we have farm volunteer hours every Saturday from 10AM – 1PM. Drop-ins are always welcome–just remember, you need to be 18 or older to come alone (younger farm volunteers are welcome with an adult!) If you are part of a group that would like to come help out, you can contact Farmer Shannon to schedule a visit. This fall there will be lots of fun projects on the farm, including harvesting produce for the farm stand and school cafeteria, as well as the many tasks needed to put the farm to bed for the winter. We'd love to have your group come for a visit and lend a hand! Get in touch with Farmer Shannon at farm@commongroundct.org or call (203)389-4333 x1217.
Second, New Haven-based community groups are invited to schedule a free Saturday visit with our educational staff. You can do the combo-visit and volunteer on the farm followed by a tour. Or, if working on the farm isn't your speed, we're happy to schedule you for a guided tour around the animal yards, learning garden, and outdoor classroom. All community groups are welcome, officially sanctioned or loosely organized! We're happy to host groups of youth, adults,  elders, or a mix.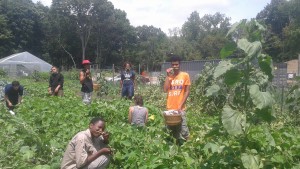 Our adult and high school staff will bring you into the chicken yard to touch a chicken and see where they lay their eggs; wander through the learning garden to smell herbs, taste fall peas, or even do some simple garden chores; and we'll be sure to say hello to Stuart the goat and the sheep–Daisy, Yarrow, and Lacey–on our way up to see the outdoor classroom. You can set up a visit by contacting Jesse at jdelia@commongroundct.org or calling (203)389-4333 x1221.
Whether you'd like to come with your community to work on the farm, take a guided tour, or do both, we hope you'll reach out and take advantage of this amazing resource in our city. Common Ground is a place of adventure, self-discovery, and community-building– we hope you'll come this fall to play, learn, work, and grow with us!