By Kendra Dawsey
FoodCorps service member
The Need for New Haven
New Haven, much like the state of Connecticut, is an area with great disparities. Within a few miles of the world-renowned Yale University, there are neighborhoods that have been condemned as "food deserts" by institutions due to lack of grocery stores. Neo-gothic architecture is slowly replaced with dilapidated houses and roads ridden with potholes. The problems of poverty, lack of jobs that pay a living wage, violence, and racism combine to create an environment where for many families, it is easier to grab dinner at a local corner store than to make a healthy meal at home.
Despite these challenges, New Haven also has a long and honorable history of activism that continues today. There are innumerable organizations working to increase access to food and justice for all. My service with FoodCorps is one of many steps in the tradition of standing with community to make life better for everyone in this multicultural and historical city.
My Work as a FoodCorps Service Member
FoodCorps is an AmeriCorps program made of leaders who connect kids to real food, and help them grow up to be the best they can be. There are 205 service members across the nation, tailoring their work to each of the diverse communities they are placed in. Our service varies from site to site, but focuses on three pillars: teaching nutrition and cooking classes, creating sustainable gardens for schools to use as learning areas, and changing the food that's on students' lunch trays.
We are hosted in Connecticut by the University of Connecticut Cooperative Extension Service 'host site', which supports 15 locally-placed service members and their own sites.
As part of my work at Common Ground, I work with teachers and community members to build gardens at the new SGRC partner schools and maintain gardens at our alumni schools. I also support those in the school community to make sure the gardens are being used to enhance learning after my service is done.
The first step in my service was filling out the Healthy School Toolkit, a resource made to assess the current school food environment and plan to make changes. I completed this task with the garden teams at each school—a group of interested teachers and staff spearheading use and maintenance of future gardens.  My first few weeks at each school was defined by the garden teams and I searching for answers across the school like reporters working on a story. We question things like:
Does the administration encourage healthy eating?
How many nutrition lessons are standardized per grade?
Then, using the information we gathered, we set goals for ourselves over the next school year. This lets me learn so much about how to best serve the schools that I am a part of.
My service has taken me places beyond the classroom – I've met many people in the community whose goals align with FoodCorps, and who are working everyday to teach others about healthy eating.
One group is Kidz Kook. I've been helping Kidz Kook founder Tennille Murphy with her after school classes at Lincoln Bassett Community School. One great benefit is that when I enter the school during the daytime, kids from the class recognize me!
So far in my service, I've helped write three grants, build one entire garden from start to finish, maintained about 8 others, met with three gardening teams, ran one cooking club for 10 weeks, stepped into 6 different classes to teach my lessons and made over 100 apple parfaits with kids.
But, the best moments of my service so far can't be quantified by data and metrics.
It's the honor of meeting the woman who worked on the first community garden in New Haven before it was made into a parking lot. It is the eagerness of the students in Common Ground cooking club to make something, even if they think they won't like it. It's the hugs that student give me in the hallways when I see them.
My first four months of service were the start of a lifelong commitment to increase access to food and healthy living in our society. I realize that the most important part of my work is bringing people together in pursuit of one common goal. I am thankful for FoodCorps, the School Garden Resource Center, and Common Ground for giving the opportunity to serve up change with the people of New Haven.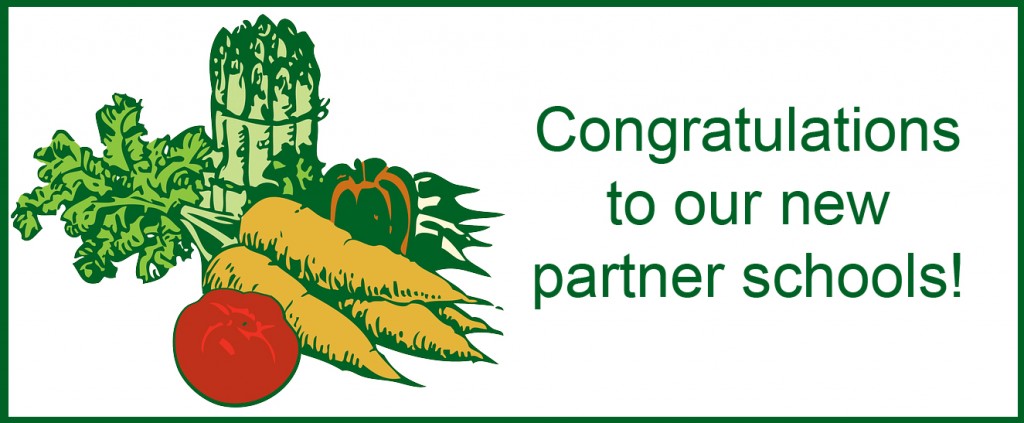 I'm happy to announce that the School Garden Resource Center has accepted our three new partner schools for 2015-2016:
Congratulations to these schools! The application process was rigorous this year, and all applicants put in a lot of hard work in creating their garden teams and completing the process.