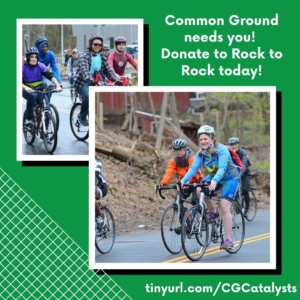 We've been consulting with local officials and our partner organizations, and following public health guidelines closely — and we're really excited to share that Rock to Rock is moving ahead in a new direction for this spring. We'll still be able to celebrate the 50th Earth Day, take real action in response to the climate emergency, and raise critical support for local environmental organizations — while respecting incredibly important government and public health guidance about social distancing.
Rock to Rock will look significantly different this year, in order to keep our riders and whole community safe and healthy. We'll be inviting you to ride and take action on your own, and share what you are doing.
On Monday, March 23rd, Rock to Rock Organizers will be sharing all the details (via email, social media, and rocktorock.org) about social distancing friendly ride alternatives, updates for riders who have already registered, and information for those who still want to join the movement. Stay tuned.
And right now, Common Ground needs your support for our critical work. Our staff are stepping up in new ways to keep our community healthy and strong. Our farm team is hard at work providing fresh food to student's families who are stuck at home. Educators across the organization are working to move our school and programs online to reach kids where they are. Our team is making sure every one of our students and their families are connected, safe, and supported.
If you can, we ask that you to donate to the Common Ground Catalyst Team or any of our team's riders today. Visit the Rock to Rock web site on Monday for announcement about this year's ride. And please post videos and photos on Facebook, Instagram, and Twitter of you taking part in Rock to Rock activities use the hashtags #myrocktorock and #rocktorock2020 so that we can follow your Rock to Rock journey!