By Melissa Spear, Executive Director
I just made a quick visit to the Common Ground kitchen.  I entered through the back door, grateful to step out of the bitter cold and into the distinctive warmth that comes from hot ovens and food simmering over burners.  Lunch was in process and the kitchen was awash with the aroma of cooking.  Today's menu: chicken fajitas and black bean quesadillas, all freshly prepared by our kitchen staff.   We at Common Ground are lucky to have cooks in our kitchen that are passionate about food, that bring creative energy to their work, and that strive to deliver delicious healthy meals to students and staff every day.
Cooking fresh, delicious, healthy meals for 200 people 5 days a week is a daunting task, made even more difficult by the complex set of regulations that must be complied with in order to receive reimbursement through the National School Lunch (NSL) and School Breakfast (SB) programs.  The regulations are intended to ensure that our students are fed healthy, nutritious meals and that we properly count meals eligible for reimbursement.  These seem like very reasonable expectations to meet in exchange for the approximately $85,000 we receive from the NSL and SB programs for our school food program each year.  But, as is often the case when well-intended legislation is translated into regulation, the impact of compliance goes far beyond what is intended, often creating adverse consequences, especially for a school such as Common Ground, where the meals are hand made each day.
This is particularly frustrating here at Common Ground because our MISSION is so clearly aligned with what these two programs are intended to deliver – healthy food – and yet I feel the way these programs are implemented often make it harder for us to effectively and efficiently deliver on our mission.
I have become particularly sensitive to the organizational impact of NSL and SB program rules and regulations as Common Ground prepares to undergo an administrative review of our school food program – the administrative review is intended to ensure program compliance with NSL and SB requirements.  As we have performed an internal assessment of our program in preparation for administrative review there are three basic conclusions that I have come to:
There is a significant administrative burden that compliance with the NSL and SB programs places on Common Ground's kitchen and administrative staff.
Counter to our mission of "cultivating sustainable environmental practice," compliance with the NSL and SB programs leads to the generation of significant additional waste.
Compliance makes meal service a complex exercise for both kitchen staff and students.
Bear with me as I go into more detail.
Administrative Burden:  NSL and SB program regulations are written to serve two functions.  First, they are intended to ensure that government funding is properly expended to serve free and reduced-price meals to eligible students.  This requires students who are eligible for free or reduced-price lunch to submit an application each year, and for Common Ground to maintain accurate records of eligibility.
Second, NSL and SB regulations are intended to ensure the meals served under the program meet the Dietary Guidelines for Americans and the Institute of Medicine's recommendations for healthy school meals.  Compliance requires kitchen staff to maintain extensive documentation including, among other things, detailed daily menu plans; standardized recipes; nutritional analysis of all foods offered; and production records demonstrating that the food prepared each day includes all required menu items and meal components, is aligned with the standardized recipes utilized, and correlates with the number of portions served.  It is this documentation that allows government auditors to verify that our school food program is meeting the required nutritional guidelines.
The extent of the required documentation can make it burdensome for kitchen staff to employ their culinary passion by experimenting with new recipes.  Every new or modified recipe served as part of the school lunch program requires a significant investment in standardizing, performing a nutritional analysis, and fitting the recipe into a menu plan that meets nutritional guidelines.  Seeing how these regulations impact our kitchen staff has made me wonder:  is there a less burdensome way to "audit" whether a school food program is delivering healthy, nutritious meals, especially for a small, scratch cooking operation like the one we run here at Common Ground?
Waste Generation:  When I first came to Common Ground 5 years ago I was struck by the amount of waste being generated from the use of single serving containers for cereal, juice, milk, salad dressing and other condiments served in our cafeteria.  The waste associated with using single serving containers is anathema to our mission of "cultivating habits of healthy living and sustainable environmental practice."  I approached the kitchen about using milk and cereal dispensers in the place of single serving containers.
Unfortunately, I was to learn that single serving containers are required by the NSL and SB programs to ensure accurate measurement of serving sizes being counted toward an eligible school meal.  So, for example, to qualify as the required "milk component" of an eligible meal, a student must be served a minimum of 1 cup (1/2 pint) of milk which is, conveniently, the size container in which milk is offered.  Here again is an example of an impact which I believe could be avoided with some careful rethinking of how program requirements are being met.  Can't we imagine a way to serve appropriate portions to students without resorting to single serving containers?
Meal Service:  Recently the NSL and SB programs introduced an Offer vs. Serve policy intended to reduce the amount of food students throw away by allowing them to choose from several food options.  This policy has added a whole new level of complexity into how school meals are served, and how students must select from the menu in order for a meal to qualify as "reimbursable."
In brief, students must select foods that contain at minimum three of the five basic food components (fruits, vegetables, grains, meats and meat alternatives, fluid milk) AND one of the choices selected must be at least a ½ cup serving of fruit or vegetable.  This requires the student not only to understand what meal components are required for an eligible meal, but also to be able to select items off the menu that contain the correct combination of meal components.  This, in turn, requires staff to develop appropriate signage for every meal, AND to set up a system for verifying that every eligible student has been "served" (e.g., selected menu items that make up) an eligible meal.  This is actually more complicated than it sounds.  Here is a quick example taken directly from the OVS guidance document:
"Sample Menu:
Choose 1 (Meat and Grain):  Hamburger on Bun OR Turkey Sandwich
Choose up to 2 (vegetable): Corn OR green beans OR potato wedges (1/2 cup each)
Choose up to 2(fruit):  Orange slices OR banana OR apple juice (1/2 cup each)
Choose 1:  unflavored milk OR flavored milk
* Two ½ cups of a fruit and of a vegetable cannot be credited as two components if the student only selects three components total.  One or the other must be a full cup to count both as components."
So far so good?  Here's more:
"In Example 1, the menu planner offered the daily required minimum amount for the fruit and vegetable components.  The student is able to decline some of the offerings as long as at least ½ cup of the fruit or vegetable is selected. In this example the following combinations are reimbursable under OVS:
1 serving of orange + 1 turkey sandwich, or
1 serving green beans + 1 banana + 1 serving orange slices + milk, or
1 hamburger + potato wedges
If the student selects corn, fruit cocktail and milk, however, it is not a reimbursable meal. S/he must select an additional ½ cup of either a fruit or vegetable or a hamburger or turkey sandwich to consider the lunch reimbursable."
Got that?  As you might imagine, this requirement demands an investment in training – of students so that they understand what menu items to select in order to build an eligible meal, and of staff to know how to recognize an eligible meal as students leave the lunch line.
As I have become more familiar with the NSL and SB program requirements it has become clear to me that compliance is adding significant cost to our school food program, both in terms of staff time and food costs.  While we received approximately $86,000 in meal reimbursements through the NSL and SB program in 2013-2014, the cost of serving just the eligible meals to our students was an estimated $106,000 (this is only the cost of serving meals to students for whom we receive a reimbursement through the NSL and SB programs, not the cost of serving free meals to all of our staff and students).
In other words in 2013-2014 we spent approximately $20,000 more than we received in reimbursements on serving eligible meals as part of our school food program.  My assessment is that a significant portion if not all of this additional cost can be attributed to meeting the regulatory burden associated with the NSL and SB programs.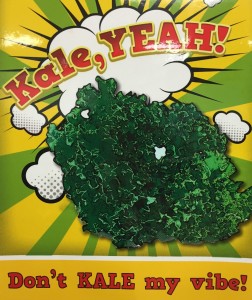 This being said, I am a firm supporter of the intent of these programs: to provide healthy, nutritious meals to our students , especially those who might not otherwise be able to afford them.  I also believe, however, that the good intentions of these programs are often overshadowed by the impact of compliance with the regulations that guide their implementation.
I understand that writing regulations to implement legislation is a very complex process.  How do you both invite interested parties to participate in the process while ensuring the regulations do not become captive to special interests?  But I wonder how these regulations might be improved if the needs of small, scratch school kitchens like Common Ground's were able to weigh in.
For now, we are doing what we have to do to comply with what we are given – as painful as it is.  And I have to give a huge shout out to our kitchen staff for doing an admirable job of delivering delicious school lunches despite the challenges posed by operating under NSL and SB requirements.
Today's lunch was healthy—and scrumptious.
To see the current guidelines for yourself (pdf), click here.