by Kimball Cartwright
You've heard about Black Friday and Cyber Monday after Thanksgiving.  Now there's an alternative:  Giving Tuesday.  Giving, instead of buying.  Simple, right?

Simple, and so much fun!  Because Giving Tuesday is about you choosing what organization (or two, or more, if you are so inspired) inspires you enough to part with some of your hard-earned cash, to help ensure the organization can keep doing inspirational work.  Read the impact of Common Ground supporter's gifts. 
You + Common Ground + Newman's Own Foundation = an especially powerful combination this Giving Tuesday, December 1st.
Newman's Own Foundation will match every dollar we raise on our CrowdRise page between noon on November 24 and December 1 (Giving Tuesday), up to $10,000!  True confession here – we have never raised $10,000 on Giving Tuesday before (much less $20,000), so this is a challenge I need your help to meet!
Here's what you can do to help:
Click here and select "Double My Donation" to sign up for a reminder email on November 24th, letting you know the challenge has officially begun and your donation now counts toward the match!
Visit our CrowdRise page at https://www.crowdrise.com/commonground5 between November 24 and Giving Tuesday, December 1, to make your gift to Common Ground.
Tell your friends to sign up too! A great way to spread the word about Giving Tuesday is by taking an #Unselfie! Print out this page, write (big and clear!) why Common Ground matters to you, snap a photo of you with your sign, and share it on Facebook, Twitter, and Instagram! Remember to tag @CommonGroundCT & use #CGNHV and #unselfie! Not on social media? You can email your photo to kate.cebik@commongroundct.org and she will share it for you!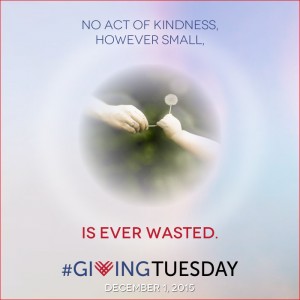 Here's what $10,000 means at Common Ground:
If you're still reading, I've got an idea for you:
Giving Tuesday 2.0!
Champion this cause and engage with us in three easy steps:
Visit our CrowdRise page at https://www.crowdrise.com/commonground5 today, scroll down, and click "Join the Team" link.  Post a photo, and you're set to get started (No bike riding necessary, I promise! But if you wait until April . . .)
You will receive special emails to people who join the team.  We'll show you some ways to promote your page on social media (let us know your nomination for an easy-to-find hashtag besides #GivingTuesday), give you some ideas for Facebook, Twitter, Instagram, and other posts.  On LinkedIn?  We are too, got it covered.
Invite your friends to join the team too!  (Don't forget to ask them to make a gift to your page on November 24th.)