Spring is officially here and May has brought us some of the first veggies of the year. Hearty bok choy and spicy radishes are ripe for the picking and lend themselves perfectly to this stir fry. If you like it spicy add your favorite sriracha, sambal or hot sauce to taste.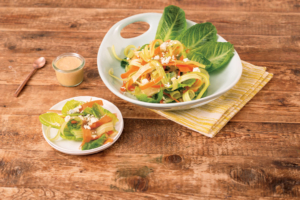 Ingredients:
2 Tbs. fresh orange juice
2 Tbs. unseasoned rice vinegar
2 tsp. cornstarch
1 tsp. reduced-sodium soy sauce or tamari
1 tsp. honey
1 medium head bok choy
2 tsp. vegetable oil
1 bunch radishes, quartered, or halved if small (13/4 cups)
2 cloves garlic, thinly sliced (1 Tbs.)
1 Tbs. finely chopped fresh ginger
1 tsp. salt
4 Tbs. chopped cashews/peanuts, optional
Directions:
Whisk together orange juice, rice vinegar, cornstarch, soy sauce, and honey in small bowl; set aside.
Cut greens from bok choy and keep separate from stems. Cut stems into ½-inch slices (you should have about 4½ cups).
Heat oil in large skillet over medium-high heat. Add radishes and cook, without stirring, 3 minutes. Add bok choy stems and cook 3 minutes, stirring occasionally.
Add ½ cup green onions, and sauté 1 minute. Add garlic and ginger, and sauté 1 minute. Add bok choy greens and salt, and sauté 1 minute. Remove from heat.
Stir orange juice sauce again to ensure it remains thoroughly mixed. Add sauce to pan and stir well to coat. Garnish each serving with 1 Tbs. chopped cashews (if using) and 1 tsp. green-onion greens.
Recipe courtesy of Vegetarian Times