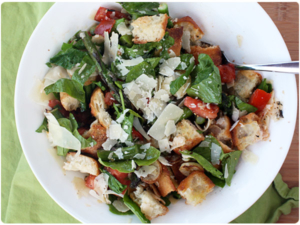 It's been getting hot over the past week and we all know that the last thing you want to do is turn on the stove. This is the perfect opportunity to pull the grill out of winter storage and put it to good use! Here at Common Ground, asparagus, bok choi, lettuce, scallions, radishes, daikon, and hakurei turnips are all ready for an early harvest.
In this recipe we highlight fresh spring asparagus and the sweet hakurei turnip. These turnips are not the hearty giants that are seen around Thanksgiving, these are small and delicate; perfect for roasting or charring on the grill. Throw this salad together using some day old bread and a few pantry staples and you'll have a perfect summer meal!
Ingredients:
1 bunch stalks asparagus
1 bunch hakurei turnips
1/2 C shaved parmesan
2 medium tomatoes, thickly sliced
2 C fresh lettuce
1 medium baguette, sliced in half laterally
olive oil
red wine vinegar (approx 1 Tbsp)
cracked black pepper
kosher salt
Fresh basil, parsley, or scallions to taste
Directions:
Trim asparagus ends and set aside. Trim off turnip greens and ends, then slice turnips into disks. Slice tomatoes and set aside.
Grill asparagus and turnips on medium heat in a grill basket for about 4 minutes or until grill marks begin to appear, then flip vegetables and repeat. Once both sides are nicely marked, remove and set aside on a cutting board. *You can also use a grill pan on the stove or roast veggies in the oven at 400 for 20-25min or until they are slightly crisp and brown.
Transfer baguette halves onto the grill for about 5 minutes, until bread developed a golden crust or grill marks. Set aside. Transfer tomatoes to grill basket and grill for about 2-3 minutes per side.
Roughly chop asparagus and tomato into large bite sized pieces. Slice baguette into large, crouton-like chunks. Add vegetables and bread to a large bowl. Toss with spinach and shaved Parmesan. Drizzle lightly with red wine vinegar, cracked black pepper fresh herbs of your choosing and salt. Toss to combine. If desired, toss with an additional drizzle of olive oil. Serve warm.
Recipe and feature photo courtesy of Haute Apple Pie