This is a fantastic way to use all those wonderful farm stand treasures in one amazing dish. And Pixar's loveable little chef Remy can help convince the little ones to try it out!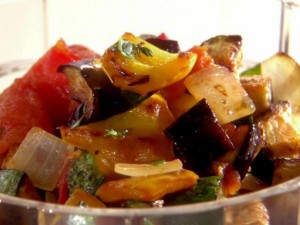 Ingredients
1/4 cup olive oil, plus more as needed
Kosher salt and freshly ground black pepper
1 small eggplant, chopped
1 zucchini, chopped
1 pepper (red, green, or yellow), chopped
1 onion, chopped
3 small tomatoes, chopped
3 cloves garlic, pressed
2 teaspoons chopped fresh thyme
3 or 4 leaves fresh basil, chopped
Splash red wine vinegar
Directions:
Heat 2 tablespoons of oil in a large pan or Dutch oven. Cook the vegetables one at a time (separately) for 5 to 7 minutes, adding a little more oil as needed and seasoning with salt, in the following order: eggplant, zucchini, pepper, onion, and tomatoes. Combine all of the cooked vegetables together in the pan, add the garlic, thyme, and basil and let simmer gently for 20 minutes. Add a splash of red wine vinegar, season with salt and pepper, and then turn off the heat. Serve hot, warm, or cold.
Calling all cooks! Do you have a great recipe that utilizes farm fresh produce? Please share it with us, and it could appear in our next newsletter! Include in the comments or email to kate.cebik@commongroundct.org.
Recipe courtesy of Melissa d'Arabian/Food Network