Soups on! Warm up with a bowl of soup made with hearty ingredients that are still available at local farmer's markets!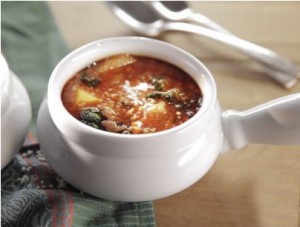 Ingredients
2 tablespoons olive oil
1 pound fresh chorizo or preferred meat substitute
4 Yukon Gold potatoes, cubed
1 medium onion, finely chopped
4 cloves garlic, minced
8 cups chicken broth
1 pound kale, stems removed, leaves torn into 1-inch pieces
1/2 cup grated Parmesan
Kosher salt and black pepper
Directions
Heat the olive oil in a large stockpot over medium heat. Brown the chorizo in the oil, 5 to 7 minutes. Add the potatoes, onions, garlic and chicken broth.
Simmer until the potatoes are fork tender, 20 to 25 minutes. Reduce the heat to low, add the kale, and cover. Cook until the kale wilts, 7 to 10 minutes.
Uncover, add the Parmesan, and heat through for about 5 more minutes. Season to taste with salt and pepper.
Adapted from "Trisha's Table: My Feel-Good Favorites for a Balanced Life" by Trisha Yearwood © Clarkson Potter 2015. Provided courtesy of Trisha Yearwood. All rights reserved.