Shorter days and cooler temperatures mean it is the perfect time of year to cozy up with some stew.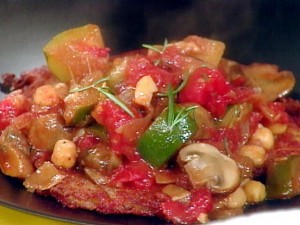 Ingredients
3 cloves garlic, smashed
1 pound, 16 to 20, crimini mushrooms, halved
2 tablespoons extra-virgin olive oil, 2 turns of the pan in a slow stream
1 medium zucchini, quartered lengthwise and cut into 1-inch pieces
1 medium onion, chopped
Salt and freshly ground black pepper
1 (15-ounce) can chick peas, garbanzo beans, drained
1 1/2 teaspoons ground cumin
1 (28-ounce) can diced tomatoes, in puree
2 tablespoons fresh rosemary leaves, finely chopped
2 pounds all purpose potatoes, such as Russets, about 3 large potatoes, peeled and shredded
1 small onion, grated
3 tablespoons all-purpose flour
1 1/4 cups shredded smoked gouda cheese, the yield of an 8-ounce piece
Olive or vegetable oil, for frying
Directions
In a medium pot over moderate heat saute garlic and mushrooms in extra-virgin olive oil for 2 or 3 minutes. Add zucchini and onion to the pot and season vegetables with salt and pepper. Saute another 5 minutes. Add beans, cumin, tomato and chopped rosemary. Bring stew to a bubble, reduce heat to low and simmer 10 minutes.
Heat a nonstick skillet over medium high heat. Add a thin layer of olive oil or vegetable oil to the pan, just enough to coat the bottom. Combine potatoes with onions and flour. Mix in shredded cheese. Spoon piles of potato and cheese mixture into the pan, making 3-inch rounds, 1-inch apart. Cook cakes until golden and crispy, about 4 minutes on each side. Remove cooked cakes and repeat process.
Arrange cakes, 3 per person, on dinner plates and top with ladles of mushroom and zucchini stew.
Recipe courtesy of Rachael Ray/Food Network